Bin Rescue In Geneva; Two Injured Men
Details

Published on Wednesday, 24 October 2018 20:33
Written by thenebraskasigna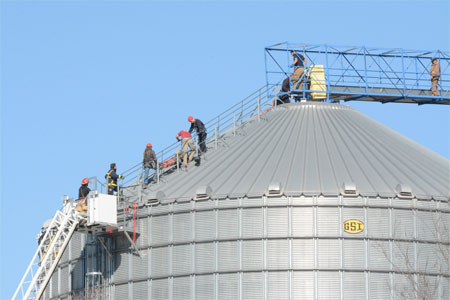 YORK – The York Fire Department assisted with the rescue of two men from the top of a bin Tuesday morning, after they were injured while working on a conveyor system.
York Assistant Fire Chief Tony Bestwick explained that the department was dispatched at 9:45 a.m., with Geneva Fire and Rescue asking for assistance and use of the York aerial truck.
"The call was that a man was on top of the bin and had a broken leg," Bestwick said. "They needed the aerial and our assistance in order to get him down."
Bestwick said they arrived at the scene, at the 200 Block of South Seventh Street in Geneva, at approximately 10 a.m.
"We surveyed the scene and set up the aerial," Bestwick said.
The bucket of the aerial did not quite reach the top of the tall bin.
"Then we sent up two people from our department," he explained. "When we arrived, the Geneva department already had the victim with the broken leg" in a stretcher which was a metal device specifically designed to transport a patient by lowering with ropes.
It was a tedious process as the man was lowered, using the device and ropes, to the aerial.
"Once he reached the platform of the aerial, we brought him down and he was transported by Fillmore County Ambulance to the Fillmore County Hospital," Bestwick said.He also noted that while the initial dispatch was to respond to one injured person, there was also another injured man on top of the bin."It is my understanding that the two of them were working on a conveyor and something let loose," Bestwick said.The other man was ambulatory, Bestwick explained, and they were able to "harness him and lower him to the aerial platform as well. Then he was also taken to the hospital."He said both men were expected to recover and their injuries, while serious, were not considered to be life threatening.
"Also at the scene was the Central Valley Ag rope rescue team, who advised us through the process," Bestwick added.
The entire process of getting the men down from the top of the bin took about 1 ½ hours. The York Fire Department does rope training on a regular basis and Bestwick said they did more in-depth training in rope rescue last May and September.