Panthers 3rd At SNC Tourney
Details

Published on Tuesday, 23 October 2018 19:23
Written by thenebraskasigna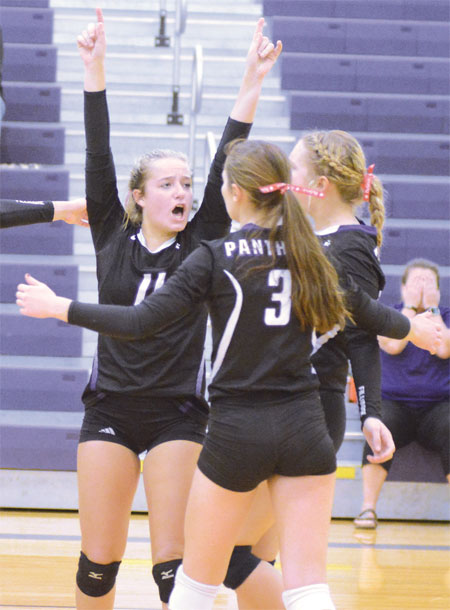 Fillmore Central controlled the third-place match with 18-10, Class C-1 Fairbury on Thursday from the start and claimed the Consolation Final with a 25-22, 25-20 win over the Jeffs. The Panthers improved to 17-8 on the season and No. 10 in wildcard points in Class C-2.
"We came out and played fired up," FC coach Dawn Temme said. "We stuck together and played as a team and earned third place in a tough conference tournament."
Halle Theis pounded 10 kills on October 18 for the panthers. Jordy Broman and Erin Schmidt both smashed three kills. Lexi Theis nailed two kills and had nine assists. Macy Scott tallied seven assists and ripped two ace serves. L. Theis belted an ace serve.
H. Theis paced the defense with six digs. L. Theis had four digs and four blocks. Scott had four digs and two blocks. Broman tallied four digs. Abby Nichols had a hand in on three blocks. Schmidt had two digs and six blocks.
The Panthers fell to C-2, No. 1 Superior 25-17, 25-18, 25-19 in one SNC semi-final on Tuesday.
H. Theis slammed 10 kills against the Wildcats and Schmidt had nine. Nichols added two terminations. Scott had five assists. Nichols smacked two ace serves. H. Theis had six digs and three assists. Schmidt had three digs and six blocks.
"We had some girls come off the bench and give us a spark," Temme said. "We need to clean up some errors on our side of the net."
FC plays 25-2 Superior again this week and will see the Wildcats in the C2-3 Sub-district on October 29-30 at Hastings Adams Central. Besides Superior, 23-5 Thayer Central is in the toughest sub in Class C-2. Rounding out the brackets will be Sandy Creek and Sutton.
FC started SNC play with a 25-21, 25-19 win over Centennial.
H. Theis thumped nine kills in the win and Schmidt had eight. Scott had four kills and 11 assists. L. Theis had three kills and eight assists. H. Theis knocked down an ace serve.
Scott had four digs and 5 blocks. L. Theis had three digs and four blocks. H. Theis had two digs and two blocks. Schmidt had six blocks.