Local News
Autonomous planting happens in Fillmore County
Details

Published on Tuesday, 21 May 2019 15:48
Written by thenebraskasigna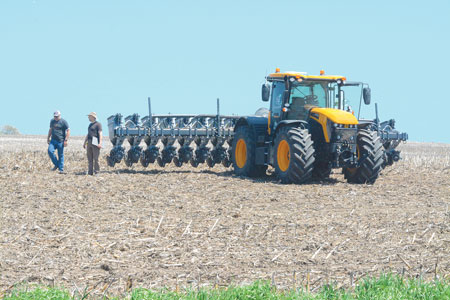 By GREG SCELLIN
Signal Editor
Something you definitely don't see every day took place last Tuesday just northeast of Fairmont. A driver-less yellow-and-black tractor and planter planted soybeans in a field for Bristol Farms Fairmont, NE. The autonomous planting last week is thought to be the first ever in Nebraska.
SabantoAg founders Craig Rupp and Kyler Laird were introduced to Shane Bristol through Ag Astra, an agricultural service company in Pratt, Kan. Always on the look-out for new innovations in agriculture, Bristol contacted the pair to come to Nebraska and autonomously plant a field of soybeans located at the southeast corner of County Road 14 and County Road E.
"With margins being as tight as they are now in farming, you need to be open to new things," Bristol said. "What is the definition of doing right in farming these days? You have to be efficient and resourceful...we've updated to no-till...we're taking steps to conserve water...this might be the next thing."
Bristol noted that the autonomous system, if perfected and trustworthy, could allow one person to perform the job of two people during planting season. It could do the planting, while another could tend to seed and fertilizer.
Rupp and Laird began an ambitious goal of autonomously planting 10,000 acres this spring. They made the trip to Fairmont from Sac City, Iowa. They were in Indiana before Iowa.
"Weather has definitely been a challenge for us," Rupp said. "We've had quite a few farmers lined up in Iowa, Illinois, Indiana, Minnesota, even Canada. It's just being able to get to them. We couldn't get going until mid-April. Now, it's pretty much we hear some planters are rolling somewhere and we head there."
Rupp said SabantoAg is still in the proof-of-concept stage and field-testing the concept and working out the bugs. He also noted that he likes what he's been seeing and likes the future of autonomous planting.
"Innovative small guys are going to bring autonomy to agriculture," Rupp said. "We have a wonderful product. We plan to take it down the road and bullet proof it. Great ideas collect dust if you don't go ahead and move on it."
Laird and Rupp were both spending time in the JCB Fastrac 4220 tractor on the Bristol farm because of the amount of residue in the field. Rupp noted that the no-till farming practices in Nebraska are different than the ones used in states to the east of the Cornhusker state. Bristol commented that the no-till practice is extremely important here to conserve precious amounts of water.
"I want to do this the rest of my life," Bristol said. "Limiting water usage is huge."
Bristol said because of this, he's a big proponent of prescription irrigation.
"You need to put the correct amount of water where you need it," he said.
Rupp, who is named on 13 patents and grew up on a farm in northwest Iowa, said he sees Laird and himself being able to make the necessary changes to allow autonomous planting to work in Nebraska's dense, no-till fields.
"I would like to thank Shane Bristol," Rupp said. "He has taught us a lot about agriculture and the agricultural practices here in Nebraska. I had no idea there are that many differences."
County Board awards tuck-pointing bid
Details

Published on Tuesday, 21 May 2019 15:47
Written by thenebraskasigna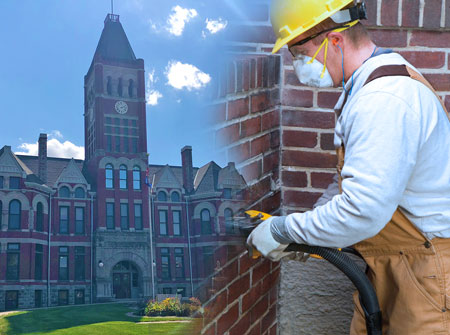 The Fillmore County Board of Supervisors met in regular session on May 14. The afternoon portion of the meeting took place in the Geneva Public Library basement meeting room. Items covered during the morning session in the board meeting room inside the Fillmore County Courthouse in Geneva included:
• Fillmore County Emergency Management director Jim Dunker presented information on continuing the Inter-local Agreement for Cooperative Development and Use of the Nebraska Regional Interoperability Network (NRIN). Dunker noted one possible capability of NRIN would be the use of video arraignments.
• Fillmore County Highway Superintendent Pat Halbur gave a report on progress with the new County Shop Office Building. She noted she is anxiously waiting on Windstream to install phone lines for the building's fire system. "Once they come, the move there will come quickly," she said.
• Halbur said she has been informed about a possible public recreation area in Fillmore County located on County Road 23 between County Road 41 and State Highway 41. Road improvements in the area would have to be completed by private individuals.
• A bill received from Bryan Health for an inmate was acknowledged and referred to the Fillmore County Attorney's Office for guidance.
• The supervisors voted unanimously to continue with Blue Cross & Blue Shield of Nebraska for health insurance for county employees for 2019-2020.
• The supervisors voted 5-2 (Supervisors Merle Noel and Wade Sluka—no) to award the tuck-pointing bid for the courthouse to Masonry Construction, Inc., in the amount of $204,426.
25 years of Fourth Grade Museum Day
Details

Published on Tuesday, 14 May 2019 15:53
Written by thenebraskasigna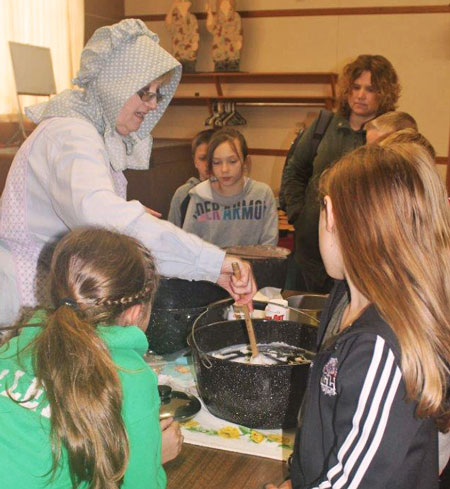 By Dianne Girmus
The Nebraska Signal
Museums are fun and educational for all ages in different ways.
Fourth graders in Fillmore County have been learning about their heritage at the annual Fillmore County Museum of Fairmont since 1994 and last Tuesday they celebrated the 25th Anniversary of the Fillmore County Fourth Grade Museum Day.
This special museum event originated through the joint-efforts of Janet Stephenson, former Geneva Elementary School fourth grade teacher, and the late Ruth Black, museum curator and leading spokeswoman for the museum at that time. Stephenson, who still coordinates the event today said, "We decided we needed to show the county history and get the message out—to make the public more aware."
Due to the chilly temperature, the fun, educational, learning stations, usually held outdoors, were moved inside this year, but that didn't dampen the spirit of the event. The 55 students in attendance were divided into six groups which were rotated through the stations and tours, which included: the Ashby and McClellan Buildings, the Country School Room, Soap and Butter-Making Stations, the Homesteader Presentation and the Quilting Station. The day ended with a sing-along of folk music featuring string instruments with David Lynn of York.
Doug Rung, President of the Fillmore County Historical Society, said the Ashby Building, the original building of the museum was part of the Fairmont Creamery Company until 1885 and then was purchased by Dr. S. F. Ashby who made it into a doctor's office and small hospital. Drs. A. A. Ashby and Dr. Charles F. Ashby also practiced there.
In 1994, the building was donated to the Fillmore County Historical Society to be used as a museum to preserve Fillmore County's history and heritage. Historical artifacts were donated, items were catalogued and put on display. Rung said there is a big variety of items.
"The rooms contain medical supplies and equipment used by the Ashby doctors...musical instruments, World War I memorabilia, dolls and toys, kitchen items, various period-dresses, creamery items and there is a special room for doing family and county history," Rung said.
A very special, one-of-a-kind item that is quite popular, can be seen in the medical supply/equipment area.
When a group of Shickley students were asked what they liked about the Ashby Building, they responded with strange looks and grins on their faces, "Dr. Ashby's appendix!" (Belonging to the late Dr. Charles F. Ashby and suspended in a bottle of formaldehyde.)
Lakota Tubberville, age nine of Shickley, said he really liked the Ashby Building.
He said, "There was a map of Shickley in the old-days and also an old year book with photos that looked really different than the ones today."
Alexianna Lathan, 10 of Shickley, liked the mannequin (mother) taking care of the baby doll in the carriage—another unique Ashby Building exhibit.
The students were intrigued as they watched soap being made with melted lard, lye and water. They even got to help stir the mixture. One Geneva student, Brinleigh Foos, age 10, makes soap at home and was excited for another experience to do so, outside of her home.
At the Homestead Presentation Station, students learned about living on the "bleak" prairie and heard a story of how one young lady received flower seeds from her sister, who lived back East, to bring color to their homestead. In the Country School Room, they learned about immigrants settling in the U. S. due to the Homestead Act of 1862.
Rung said the second museum building, the McClellan Building, donated by Beth Wilkins, is divided into historical stores and shops of the county's history and includes a hat shop, telephone office, optometry office, one room school house, funeral parlor, electronic display, household furniture displays, farm tool display and a working soda fountain from Exeter. Rung said the historical society purchased the corner building adjoining the McClellan Building within the past 10 years. A doorway was opened between the buildings and renovated to enlarge the museum.
Rung said, "This addition includes: memorabilia from the former Fillmore County Army Airfield, photography instruments, postal equipment, military uniforms, a doll house and the most recent addition, a bank teller cage. It's named "The Ruth Black Room" in memory of the late Ruth Black, museum curator and spokeswoman.
Owen Beavers, age 10 of Shickley, said he liked the McClellan Building because he saw a lot of World War II items and he enjoys history like that.
The Butter-Making Station was enjoyed by everyone, being a hands-on experience of shaking cream and salt until it solidified. Joey Stoner, age 10 of Geneva, said he enjoyed making it because he got to shake it for a long time and that it looked good when it was finished. At the Quilting Station, the students each designed their own nine-patch quilt block.
Stephenson said that in spite of the weather, the day went very smoothly, even though the event had to be held inside. Stephenson believes it is an important event and she is very grateful for all the support received this year and previously.
"It's good to educate our children in local history, and, hopefully, instill the importance of it. Through the years, I've truly enjoyed this. It's always been a big success and we've received a lot of favorable comments—that's why we keep going with it," Stephenson said. "The day would not be possible without the dedication of all the volunteers, most being board members, who help every year and the grants we receive from the Fillmore County Foundation and the Tous Charitable Foundation."
Wind hearing gets intense
Details

Published on Tuesday, 21 May 2019 15:36
Written by thenebraskasigna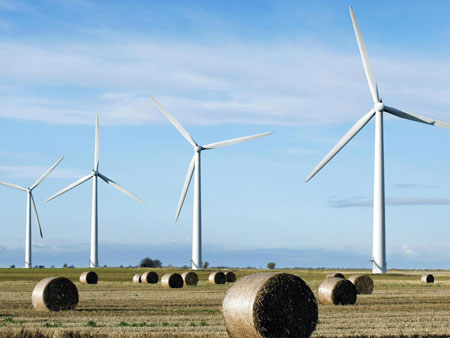 By GREG SCELLIN
Signal Editor
About 40 people attended the afternoon Public Hearing concerning the Conditional Use Permit (CUP) filed by EDF Renewables, North America, to construct, operate and maintain nine 600-foot, Utility Grade Wind Energy Systems (Milligan 1 Wind, LLC) mainly between County Road Q and County Road R from County Road 20 to the Fillmore/Saline County line, south and southwest of Milligan. And, as probably expected, most all of the comments were against the Fillmore County Board of Supervisors granting the CUP on Tuesday, May 14.
Fillmore County Board Chairman Jeff Neiman opened the hearing in the basement meeting room of the Geneva Public Library by saying, Let's keep this civil. EDF project manager Logan Winston and EDF development director Todd Eagleston were asked to describe the project to begin the hearing. The pair described EDF as a big company with staying power with over 1,000 employees and having operated in the U.S. for over 30 years. They also commented that Saline and Fillmore counties have been looked at for its wind potential for 10 to 11 years.
"EDF looks for opportunities to meet consumer demand," Eagleston said.
The pair commented that 200 workers are expected to be in the area to construct the wind turbines in Fillmore and Saline counties. They expected eight to 10 full-time permanent jobs to happen in the area. They also estimated the project would generate $45 million in tax revenue and pay $1.25 million per year in lease revenue to land owners for a total of $95.6 million in taxes and revenue over the project's projected 25-year lifespan.
They also addressed decommissioning the project. The estimated cost of decommissioning was $17.5 million, Eagleston said. He noted the components of the project would have an estimated scrap value of $12 million leaving a balance of $6.5 million to remove everything. He said, EDF would post a bond in this amount after year 20. The fact that EDF hasn't filed a Road Work Agreement with Fillmore County was also noted.
From there, area residents and concerned citizens spoke at the hearing. Among the opponents of having the Fillmore County Board of Supervisors granting the CUP to EDF were Scott Vonderfecht, Alex Uldrich, Robert Schropfer, Ron Schropfer, Scott DeLong, Ron Schropfer, Danny Nun and Larry Nun.
Comments included:
• "They make a horrible noise," Vonderfecht said. "Don't give me the..........that they don't. It's the same old song and dance from every new (wind) developer."
• Another person questioned what happens when one of his kids begins to under-perform in school because of the wind turbines. "Is someone going to come in and buy my house for a million dollars?"
• Shadow-flicker and set backs were also discussed, along with loss of saleability of homes and properties. "Don't tell me there's not a problem with these things, because there is," Vonderfecht said.
• DeLong warned the supervisors that the public would resent them if they approved the CUP for EDF. "If you vote this in, they're going to hate you forever," he said. "Vote it down...nothing is going to change (if you do)...life is going to go on....how would you feel if these were going in in your backyard?
• The question if the CUP meets the current county's zoning rules and regulations, what can the county board legally do was brought up several times. "Our job is not to vote this in and ruin our lives," Supervisor Ralph Graham said.
• Failed wind projects were brought up, along with the uncertainty of the new wind turbines. Also, the clean-up associated with these type projects was noted. New farming practices were also discussed. "We cannot impede your agricultural production," Eagleston said. Also the possibility of changing the county's zoning rules and regulations was brought up. "Why don't you have a one-mile setback for these?," Vonderfecht asked.
• The wear and tear on county roads was brought up, along with the underground interlinking of the turbines. Energy from the project will be put into the wholesale market through the Southwest Power Pool, Eagleston said. "It will flow to where the need is," he said.
• Many questioned what the end number of wind turbines in Fillmore County will be. "Once you get nine, they snowball quickly," R. Schropfer said. "We used to live in town," D. Nun said. "We moved out to the county to see Nebraska the good life...I don't want to see these big white windmills all around here."
Currently, the closest large wind projects operated by EDF are in Oklahoma—the Great Western Wind Project in the Oklahoma Panhandle counties of Woodward and Ellis (operational in 2016) and Rock Falls Wind in Kay and Grant counties (operational in December of 2017). Eagleston said the wind projects in Fillmore and Saline counties will represent a $300-$400 million investment by EDF. He also said the company would like to break ground on the project yet this year.
The hearing ended after a little over an hour with Neiman saying he would like the granting of the CUP tabled until the next regularly-scheduled board meeting at least. The supervisors voted 7-0 to table the Milligan 1 Wind CUP until further notice.
"I encourage you to get us more, specific information on your claims...what was talked about here," Neiman said. "This is a pretty big decision to be made...I just don't feel comfortable making this decision today."

Fire station to go to bid
Details

Published on Tuesday, 14 May 2019 15:53
Written by thenebraskasigna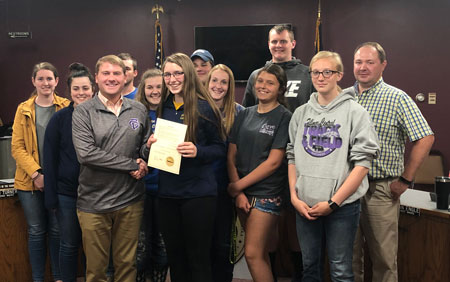 By GREG SCELLIN
Signal Editor
The Geneva City Council unanimously voted to go out for bids for a new fire station and debated on what the lot prices should be at Geneva's 19th Street Housing Addition at the city council's regularly-scheduled meeting last week.
The time line for the fire station project will be: May 8-22, three weeks of legal publication; May 13, JEO Consulting Group, Inc., releases bid documents; May 29, 10 a.m., pre-bid meeting; June 11, 2 p.m., bid opening; June 17, Geneva City Council approves contracts; July 8, construction begins and April of 2020, completion.
Corey Brodersen with JEO went over the fire station project with the city council and a handful of Geneva firemen last week. The 13,600 square foot pre-engineered metal building will contain six bays, training and meeting room areas, equipment storage areas and a mezzanine level. It will also have areas designed for future uses. Current estimates for the project range between $1.6 and $1.76 million.
"It is a pretty straight-forward design for a community like Geneva," Broderson said. "I think the project really came together well."
Some items recently finalized including moving the building's design up six inches to help with drainage; keeping the building 12-15 feet from the property line; keeping a generator with the project; in-floor heat or radiant heat and if a safe room is needed.
"Your firemen have really went over the building," Broderson said. "I also think the bid environment is very strong right now for a project like this."
Former Geneva fireman Tom Ortgies noted the current Geneva Fire Barn was built in 1971 or 1972 and needed modifications from day one.
"I ask you to do it right," Ortgies said. "I see how much work the firemen have had to do on their own in the current fire barn to make it usable...insulate, making the heating right... If you don't do it now, you're going to pay for it later. It is a focal point of the community...just like city hall."
The city council voted 6-0 to go out for bids for the new fire station, which will be located at 7th Street and F Street.
"I think we have a good building," Geneva Mayor Eric Kamler said.
In conjunction with the new fire station location, the city council approved having JEO design a two-block water main extension to the building's location. This project is estimated to cost about $100,000. The six-inch water line will move along the south side of F Street from 8th Street to 6th Street.
Another topic on the May 6 agenda included discussion on lot prices at the 19th Street Housing area. Actual assessment prices for the six lots in the Third Addition ranged from $14,954 and $24,800 as computed by JEO. Assessment prices for the 10 lots in the Fourth Addition ranged from $13,522 to $38,264.
Geneva City Attorney David Solheim and Geneva City Administrator Kyle Svec also noted that $275,000 in City of Geneva Sales Tax Economic Development dollars have been earmarked to make the lots affordable for work-force housing.
"I think if you get these lots down to an affordable price, they would sell like hot cakes," Svec said.
An average lot sale price of $15,000 was discussed.
"Guys, these people are getting a brand new street, brand new lot," Council President Josh Turner said. "You're by the elementary school, hospital, new community center..."
The city council voted to use some of the economic development sales tax funds to offset the JEO-estimated assessments. Two lots in the new housing development will be priced at $10,000, while two more will be priced at $20,000 and the majority (12) being priced at $15,000.
In other meeting notes:
• Craig Jones with First National presented an interim financing bond package to the city council. The bond issue will not exceed $1.55 million and will run for one year to move current projects along. After one year, 15-year permanent financing will go into place.
• Kamler outlined a Memorandum from the Mayor that encourages city workers to report any and all visible City Code of Ordinance violations. These violations could include overgrown grass/yards; abandoned cars; dilapidated properties and creation of emergency snow routes.
"This will encourage people to keep things a little cleaner," Kamler said. "The goal is to keep city codes in line."
• John M. Lentfer gave a seven-minute presentation questioning stop-sign locations, arterial street identifications and right-of-way obstructions.
• Mike Motis requested the city council look into forming a Paving District for S. 10th Street between A Street and B Street.
• Street improvements on H Street between 18th Street and 19th Street were discussed. The improvements will cost $97,647.39 with $64,438.23 being paid by the City of Geneva and $33,209.16 being paid by adjacent property owners. The project will be a change order to the 19th Street paving project.
• The city council was in general consensus to wait on any changes to the center medians along 13th Street. "I think they function okay as they are," Turner said.
• During his city administrator's report, Svec noted that Werner Construction paving crews are in town. He also said he has been approached by a group of citizens who are interested in establishing a walking trail in the city.