FC Girls Tops In Concordia For 7th Straight Year
Details

Published on Thursday, 23 March 2017 15:56
Written by thenebraskasigna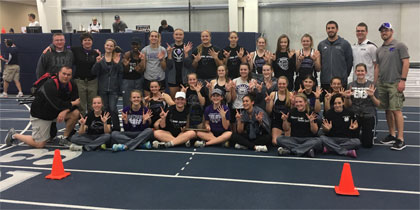 The Fillmore Central girls won eight individual events at the 2017 Bulldog Track & Field Challenge on March 17 and the Panthers boys picked up an event win. En route to claiming first in eight events, the FC girls amassed 116 points in Seward and claimed the girls team championship for an amazing seventh year in a row. The Panther boys put up 55 points on the board, which took third place in the team standings at the 14-team meet at Concordia University.
Panther Jamey Broman won three events on St. Patrick's Day—first in the 60-meter dash in 8.14 seconds, which tied her own Meet Record; first in the 200-meter dash, 27.1 seconds; and tops in the long jump with a leap of 16-feet, 8-inches. FC junior Grace Jacobson set two new Meet Records while winning the 1,600-meter run in 5:44.76 (more than four seconds quicker than the previous meet record) and the 3,200-meter run in 12:33.50—clipping more than 21 seconds off the meet's previous best. Panther Alexis Schmidt won both throwing events in Seward on March 17. The FC junior set a new Meet Record and New School Record in the shot put with a heave of 42-3.5. This throw was nearly two feet farther than then the previous meet mark. Schmidt also bested the field in the discus with a throw of 115-0. Emileigh Kennel completed the event wins for the Panthers by capturing gold in the triple jump with an effort of 35-0.
"The girls won the meet for a seventh straight year scoring 116 points as a team," FC head girls track coach Colby Smith said. "Grace Jacobson set meet records in both the mile and two mile, Jamey Broman beat her own meet record in the 60-meter dash and Alexis Schmidt and McKenzie Scheil both broke the meet and our school record in the shot. It was an outstanding team effort where many athletes scored and contributed."
Panther Chandler Schelkopf took first in the 800-meter run 2:10.45. Adam Hoarty and Kole Karcher went 2-4 in the 1,600-meter run (4:59.51 and 5:08.51). Schelkopf also took third in the pole vault (12-0) and Hoarty was fourth in both the high jump (5-10) and the long jump 19-10.50). The FC boys were extremely strong in the relays on March 17 with runner-up efforts in the 1,600-meter relay, Hoarty, Karcher, Schelkopf and Junior Alcantar, 3:48.25; and the 3,200-meter relay, Alcantar, Parker Trowbridge, Corey Maloley and Gavin Hinrichs, 9:30.03.
"This was a good start for us," head FC boys track coach Adam Verhage said. "I am so impressed with how the boys are approaching this season. They have done everything we have asked. The relays were great. We are really excited with a third-place finish at the meet. I look forward to the next meet on Saturday at Fairbury."
Additional Top 6 finishes in Concordia were turned in by: Halle Theis, fourth, 400-meter dash, 1:03.68; Sydney Hiatt, fifth, 800-meter run, 2:46.51; Macy Scott, fourth, 1,600-meter run, 6:08.06; Lauryn Monteforte, third, 3,200-meter run, 14:00.34; girls 1,600-meter relay, second, Broman, Theis, Jacobson and Scott, 4:28.56; girls 3,200-meter relay, fifth, Hiatt, Abbey Parten, Destiny McCaul and Sydney Schelkopf, 12:03.67; Theis, fifth, long jump, 15-5; Scheil, second, shot put, 39-6; Alcantar, fifth, 800-meter run, 2:16.40; and Ryan Poppert, sixth, 3,200-meter run, 12:02.67.