Exeter's Erdkamp top clerk/treasurer
Details

Published on Tuesday, 04 April 2017 20:41
Written by thenebraskasigna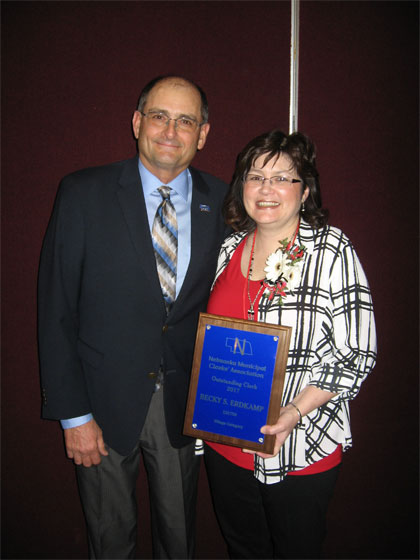 Story by Leesa K. Bartu
Signal Exeter Correspondent
Becky S. Erdkamp, city clerk/ treasurer of Exeter, received the Nebraska Municipal clerks Association's "2017 Outstanding Clerk of the Year Award" in the Village Category. The award was presented to Erdkamp at the annual banquet of the Nebraska Municipal Clerks Association held on March 23, at the Ramada Inn Convention Center in Kearney.
Each year, the Nebraska Municipal Clerks Association awards the Outstanding Clerk of the Year Award to one clerk in the First Class or Larger City category, one award in the Second Class City category and one in the Village category. This is the highest honor awarded by the Nebraska Municipal Clerks Association.
Erdkamp has been employed as the city clerk treasurer in Exeter for 10 years. She is a member of the Midlands Municipal Clerks Association, the Nebraska Municipal Clerks Association and the International Institute of Municipal clerks.
Becky has participated in several League of Nebraska Municipalities conferences as well as classes, seminars and workshops to further her skills in the profession. She is active in numerous civic, church and community activities such as the Alter Society, School Foundation, Ball Association, Girl Scout Troop Leader, Boy Scout Committee Member, Fillmore County Odegeo Class and Library Board.
"I was truly honored that I was selected," Erdkamp said. "I do take my job seriously and try to protect the interests of the village."
Exeter Village Board Chairman Alan Michl felt Erdkamp was very deserving of the award.
"The board and the community are very proud of what she has accomplished," he said. "Especially for her to be recognized by her peers, that was quite an accomplishment. I feel she does a good job not only on the paperwork in the office but also dealing with the public and the problems that come along. She has done a commendable job at that."