FC Girls Dominate At TC Invite
Details

Published on Tuesday, 04 April 2017 21:48
Written by thenebraskasigna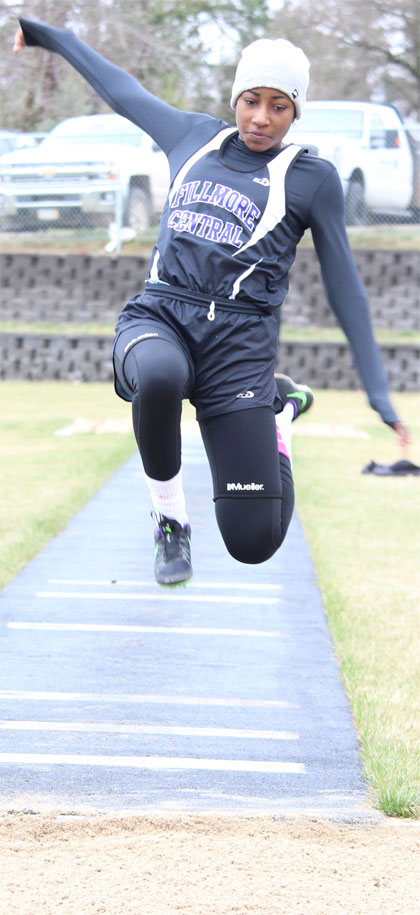 The Fillmore Central girls dominated the competition at the 2017 Thayer Central Invite last week. The Panthers won seven individual events and scored points in every event en route to 149 points—54 more than meet runner-up Johnson County Central (95). The host Titans were third with 68 points.
Speedster Jamey Broman won two events for the Panthers—taking the 400-meter dash in 63.64 seconds and gold in the long jump, 16-feet, 8.5-inches. Teammate Alexis Schmidt won both throws for FC—42-8.5 in the shot put and 113-2 in the discus. Panther Emileigh Kennel won the triple jump with a leap of 34-6.5 feet. Freshman Halle Theis struck gold in the 100-meter hurdles in 17.83 seconds. Sydney Hiatt was first in the 800-meter run in 2:43.26.
"The girls scored points in each event and several girls scored for the team—a complete team effort," FC head girls track coach Colby Smith said. "In a cold and bitter day, the girls supported and encouraged each other to mentally prepare to compete and they are such tough kids. I'm proud of how they competed and pushed themselves, as several girls set new personal records on the year in their events."
The Panther boys were unable to capture an event title in Hebron on March 30. FC scored 58 points and landed in fourth place at the invite. Sutton was boys' team champions with 130 points. Fairbury was second and TC took third.
Senior Adam Hoarty was second in the long jump (19-4.5) and third in the high jump (5-8) in Hebron. Chandler Schelkopf tied for third in the pole vault (10-6) and the 3,200-meter relay squad of Junior Alcantar, Gavin Hinrichs, Parker Trowbridge and Aaron Poppert placed third in the event in 9:46.92.
"It was a very cold day," Panther head boys track coach Adam Verhage said. "The boys competed hard and didn't let the weather be a factor. I felt they were mentally tough in these conditions. Some of our young kids are really starting to find their place. I like the efforts that they are giving in practice and at meets."
More results from the March 30 TC Invite for the FC girls include: Halle Theis, second in long jump, 15-6; McKenzie Scheil, third in discus, 105-8; Sophia Frook, fifth in pole vault, 7-6; Elise Frook, sixth in pole vault, 7-6; Scheil, second in shot put, 41-4; Kennel, fourth in high jump, 4-6; Broman, second in 100-meter dash, 13.17; Grace Jacobson, second in 1,600-meter run, 5:43.54; Macy Scott, third in 1,600-meter run, 6:04.57; girls 400-meter relay sixth in 58.93; Theis, third in 300-meter hurdles, 51.09; Broman, second in 200-meter dash, 27.05; Avis Koca, fourth in 200-meter dash, 29.53; girls 3,200-meter relay fifth in 12:56.31; Lauryn Monteforte, sixth in 3,200-meter run, 13:50.32; and girls 1,600-meter relay third in 4:40.84.
Additional results from Hebron for the Panther boys include: Poppert, third in long jump, 18-3.25; Riley Moses, sixth in discus, 111-2; Josh Taylor, fourth in 100-meter dash, 11.99; Christian Lovan, fifth in 100-meter dash, 12.12; Kole Karcher, fourth in 1,600-meter run, 5:05.58; 400-meter relay team of Izayah Morris, Jordan Adams, Seth Kenley and Moses, fifth, 53.87; Corey Maloley, fourth in the 400-meter dash, 58.28; Schelkopf, fifth in 800-meter run, 2:11.58; Alcantar, sixth in 800-meter run, 2:19.89; Lovan, fourth in 200-meter dash, 24.51; Taylor, sixth in 200-meter dash, 24.54; and 1,600-meter relay squad of Karcher, Gavin Hinrichs, Alcantar and Schelkopf, fifth, 3:56.04.