Broman Wins Three Events
Details

Published on Tuesday, 11 April 2017 18:49
Written by thenebraskasigna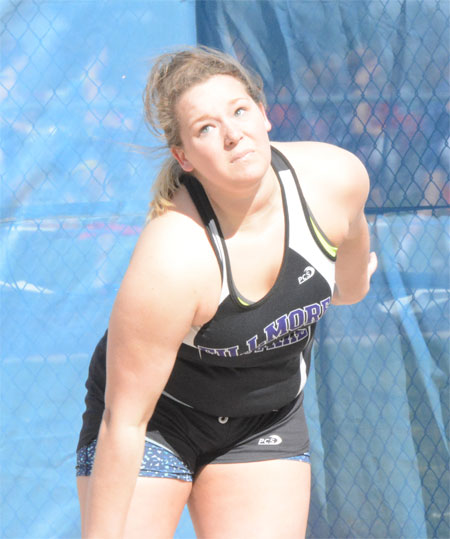 Fillmore Central competed somewhat shorthanded in the 2017 Dale Feeken Memorial Track Meet on Friday, April 7, at Hastings Adams Central. Despite this, the Panther girls finished in second place in the team standings at the 8-team, large school meet in Hastings. Conditions were less than ideal for the field events with a never-ending gusty wind blowing. Track conditions were somewhat better and improved as the meet progressed.
Panther Jamey Broman was able to brave the conditions and win three events on Friday. The FC junior won the 200-meter dash in 26.54 seconds and the 400-meter dash in 63.50 seconds. Broman also bested the field in the long jump with a leap of 16-feet, 4.25-inches. Teammate Grace Jacobson struck gold in the 1,600-meter run in a winning time of 5:42.34.
FC's McKenzie Scheil and Alexis Schmidt continued their dominance in the throws for the Panthers. Scheil won the discus with a PR toss of 116-.50 in the brutal windy conditions in Hastings. Schmidt was third with a throw of 109-9.50. Schmidt struck gold in the shot put with a heave of 41-2, while Scheil was runner-up with a toss of 37-7.
The Panther boys were unable to capture an event win in Hastings. Christian Lovan crossed the finish line in sixth place in the 100-meter dash in 11.85 seconds. Chandler Schelkopf took fifth in the pole vault (11-0). The FC boys 3,200-meter relay squad of Junior Alcantar, Parker Trowbridge, Gavin Hinrichs and Kole Karcher placed fifth (9:22.56). The 1,600-meter relay crew of Hinrichs, Alcantar, Trowbridge and Schelkopf took fifth (3:59.09). The 400-meter relay team of Riley Moses, Lovan, Alcantar and Seth Kenley also placed (49.81 seconds). Schelkopf was runner-up in the 1,600-meter run (5:01.37). Karcher was third in the 800-meter run (2:16.87).
Additional scoring for the FC girls was turned in by the Panther 3,200-meter relay team of Sydney Hiatt, Jacobson, Sydney Schelkopf and Macy Scott in 10:59.11. The 1,600-meter relay squad of Scott, Marcy Novak, Schelkopf and Vicki Elznic took fourth (4:52.78). The 400-meter crew of Avis Koca, Scheil, Elznic and Schelkopf took second in 56.40 seconds. Aiwa Temme placed fifth in the 300-meter hurdles (60.48). Temme was fifth in the 300-meter hurdles (19.24 seconds). Scott took fourth in the 800-meter run (2:43.78) and Hiatt was fifth in the race in 2:45.48.