E-M Boys 2nd At Heartland
Details

Published on Tuesday, 18 April 2017 21:16
Written by thenebraskasigna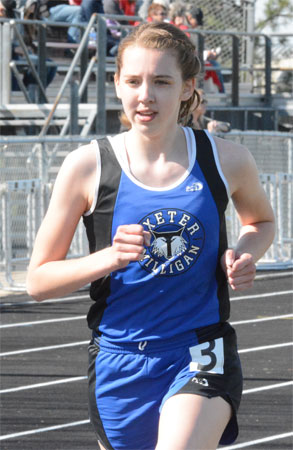 The Exeter-Milligan boys scored 91 points and took team runner-up honors at the 2017 Heartland Invitational Track Meet. The Timberwolf girls combined to score 67 points to land in fourth place at the 10-team meet on April 11. Sutton (127) were the boys' team champions and Heartland took the girls' team championship with 133 points.
Timberwolves Trevor Luzum and Trystan Brandt finished one-two in the 300-meter hurdles in Henderson. The pair clipped the tape in 41.50 and 42.30 seconds, respectively. Luzum was also second in the 110-meter hurdles in 16.06 seconds. Luzum also struck gold in the high jump with a winning effort of 6-feet. Brandt continued his dominance in the jumps—winning both on April 11 with top efforts in the long jump, 20-8.25; and triple jump, 42-6. Luzum placed third in the triple jump (40-0). Timberwolf Katherine White blazed to gold in the 100-meter hurdles in Henderson in 16.93 seconds. The E-M sophomore was also second in the 300-meter hurdles (50.45). Timberwolf Kate Jansky enjoyed an outstanding day in the distance events for E-M. The Timberwolf sophomore placed second in the 3,200-meter run in a New School Record time of 12:22.57. Jansky was also runner-up in the 1,600-meter run (5:54.61) and third in the 800-meter run (2:33.61).
Additional scoring by the E-M girls were turned in by Hannah Beethe, fourth, 100-meter hurdles, 18.46; Beethe, sixth, 300-meter hurdles, 53.65; 1,600-meter relay team of Hailey Luzum, Anna Sluka, Beethe and White, fourth, 4:47.86; 3,200-meter relay squad of Hannah Horne, Sydney Hall, Caitlin Murphy and Samantha Horne, sixth, 12:43.66; Beethe, third, high jump, 4-8; White, long jump, third ,16-1.5; Tara Mueller, fourth, shot put, 35-8.5; and Mueller, sixth, discus, 97-6.25.
More scoring for the E-M boys came from 1,600-meter relay team of Manning, Patrick Murphy, Spencer Pribyl and Eric Olsen, fifth, 3:54.42; 3,200-meter relay squad of Pribyl, Caleb Horne, Joey Bartu and Manning, fourth, 9:37.08; Murphy, third, high jump, 5-8; Olsen, fourth, high jump, 5-8; and Jos Cremers, shot put, sixth, 38-9.