BDS Thinclads Compete In 2017 E-M Track Invite
Details

Published on Tuesday, 25 April 2017 18:11
Written by thenebraskasigna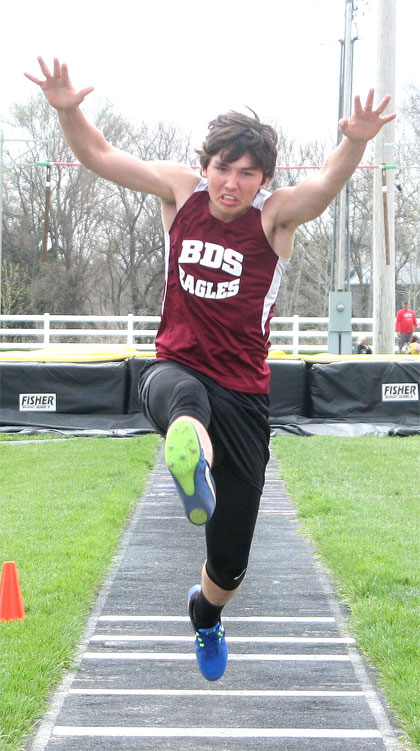 The Bruning-Davenport/Shickley boys scored 81 points at the 2017 Exeter-Milligan Invite, while the Eagle girls notched 33.5 points. The BDS boys were fifth in the team standings and the Eagle girls were sixth.
John Christensen and Thomas Mick were both able to capture gold medals in McCool Junction on April 18. Christensen bested the field in the shot put winning the event with a heave of 44-feet. Mick cleared 13-9 to win the pole vault. Christensen was also fifth in the discus (117-1) and Mick was runner-up in the 110-meter high hurdles (17.26 seconds).
Additional scoring for the BDS boys was turned in by: 3,200-meter relay team of Jacob Swartzendruber, Taylor Anderson, Josh Swartzendruber and Isaac Else, fifth, 10:36.57; Anderson, fourth in the high jump, 5-7; Chris Lichti, fourth in the pole vault, 11-9; Karson Dickson, fourth in the long jump, 18-2; Else, fourth in the triple jump, 34-11.5; Josiah Kamler, fifth in the triple jump, 34-8.50; Garrett Schardt, third in the 400-meter dash, 54.72; Brett Holtzen, sixth in the 400-meter dash, 56.72; Dickson, third in the 800-meter run, 2:14.74; Holtzen, fifth in the 800-meter run, 2:16.71; Schardt, fourth in the 200-meter dash, 24.16; Lichti, sixth in the 200-meter dash; 400-meter relay crew of Mick, Dickson, Anderson and Schardt, second, 47.01; and the 1,600-meter relay team of Holtzen, Lichti, Mick and Dickson, fourth, 3:58.58.
Courtney Kamler and Tara Lee Hudson paced the Eagle girls' effort on April 18. Kamler took second in the pole vault after clearing 9-3 and Hudson took third in the shot put, 32-7; and fourth in the discus, 92-9.
Additional medal winners for the BDS girls were: 3,200-meter relay squad, fourth, 12:40.28; Mikeala Anderson, sixth, pole vault, 7-3; Caitlin Mosier, fifth, high jump, 4-7; Mashaya Dierking, sixth, triple jump, 31-10.25; and the 400-meter relay team, fourth, 55.90.