FC Girls 1st; Boys 6th At TC
Details

Published on Tuesday, 25 April 2017 18:15
Written by thenebraskasigna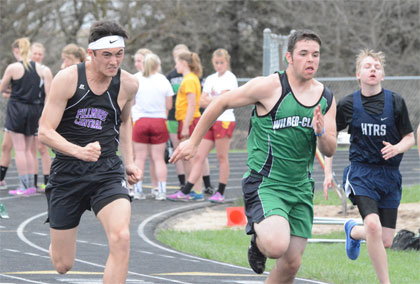 The Fillmore Central girls enjoyed some tremendous success last Tuesday at the 2017 Dan Tesar Invite at Tri County High School. The Panther boys were not able to capture an event title but did score 47 points to land in sixth place in the team standings.
Grace Jacobson, Alexis Schmidt and Jamey Broman all struck gold for the Panther girls. FC won the team title by 31 points on April 18 against a solid 10-team field. The Panthers put up 108 points.
Jacobson stalked pace setter Aleisha McDonald of Johnson County Central before taking command of the 3,200-meter run with two laps to go and cruising to victory in 12 minutes, 3.51 seconds. The Panther junior was equally impressive in taking the 1,600-meter run in 5:36.86. Schmidt set a New Meet Record in winning the shot put last Tuesday with a gold-medal heave of 41-feet, 2.5-inches. The FC junior also placed fifth in the discus (112-8). Broman soared to victory in the long jump covering 16-8.50. The junior speedster also zipped to runner-up finishes in the 200-meter dash (27.0 seconds) and 400-meter dash (61.59).
"The girls won this meet by a quality margin, and so many kids set personal records and contributed," FC head girls track coach Colby Smith said. "For the girls to sacrifice being tired, sore or having more events for the team, says a lot about these girls. They compete hard, run for each other and continue to set better marks each week."
Rather than running in the open 100, Broman joined teammates Sydney Hiatt, Halle Theis and Macy Scott to place third in the 1,600-meter relay in 4:20.43. Theis added major points to the FC total with a runner-up finish in the 100-meter hurdles, 16.79; third-place medal in the long jump, 15-8.25; and fifth-place finish in the 300-meter hurdles, 49.28.
Additional scoring for the Panther girls was turned in by: McKenzie Scheil, shot put, third, 38-4.75; Aiwa Temme, pole vault, second, 8-6; Elise Frook, pole vault, sixth, 8-0; 3,200-meter relay team of Hiatt, Sydney Schelkopf, Destiny McCaul and Scott, fourth, 11:13.02; Lauryn Monteforte, 3,200-meter run, fourth, 13:17.84; and Scott, 1,600-meter run, third, 5:54.87.
Chandler Schelkopf turned in a second-place effort in the 800-meter run last Tuesday by clipping the tape in 2:07.12. The Panther junior also took third in the pole vault after clearing 12-0. Teammate Adam Hoarty soared 20-feet to take second in the long jump. Hoarty also tied for second in the high jump with an effort of 5-10. The Panther 400-meter relay crew of Aaron Poppert, Christian Lovan, Hoarty and Schelkopf zipped to a runner-up finish at Tri County in 46.46 seconds.
"The boys did well and I'm proud of their efforts," FC head boys track coach Adam Verhage said. "Things can improve yet. We had lots of kids that were just out of medaling. (This is a) very tough meet, great competition for the day."
Additional Top 6 finishes for the Panther boys included: Poppert, fourth, long jump, 19-0; and fifth, triple jump, 37-4.50; 3,200-meter relay squad of Hoarty, Junior Alcantar, Kole Karcher and Schelkopf, fourth, 9:02.89; and Karcher, 1,600-meter run, sixth, 5:01.39.