Butler Head Start Hero
Details

Published on Tuesday, 02 May 2017 15:32
Written by thenebraskasigna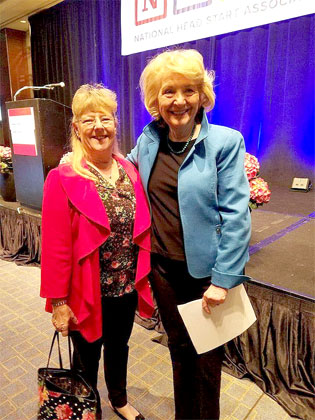 Lois Butler of Kearney, daughter of Richard and Shirley Brunkow of Milligan, was recognized as a Head Start hero in Chicago at the NHSA conference on April 7. NHSA created the Head Start Hero award to honor and acknowledge the incredible hard work that is demonstrated each and every day for our nation's most vulnerable children.
Yasmina Vinci, NHSA executive director, presented the award to Lois for her tireless efforts in not only her local Head Start and Early Head Start program that covers 15 counties in Nebraska and two counties in Kansas but also for her involvement in her state, Region VII and the National Head Start Association.
She has been the Nebraska Head Start Association President, and served on the Regional and National Head Start Board of Directors. The past 11 years she has been a coach at the Nike Starting Block leadership training in Beaverton, Ore., which is a partnership with NHSA. Lois received a standing ovation at the conference opening session with 3,000 individuals in attendance and was again recognized at the closing session.