FC Golfers Busy Week
Details

Published on Tuesday, 02 May 2017 15:40
Written by thenebraskasigna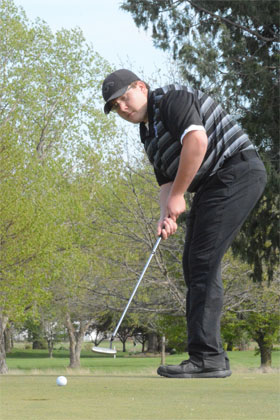 The Fillmore Central golf team played through the busiest week of the season so far, as the Panther linksters hosted a quadrangular at home last Monday and ventured to tournaments in Superior on April 25 and Hastings on April 27.
FC were the team champions on April 24 over its home Hidden Hills Country Club course by combining for 185. Sutton was six strokes back and Thayer Central combined to card a 198. Deshler was a distant last at 237.
Tanner Ourada fired a 42 last Monday to card the low round. Garrett Whitley trailed Titan Jackson Feulner for third with a 44. Shalin Bhatka carded a 59 and Trevor Swartz shot 50. Daniel Andrews carded a 53 on the day.
For the Panther JVs, Carson Tatro carded a 50 last Monday. Brock Tatro and Isaac Klar both came in with 55s. Cole Williams fired a 56 and Nicholas Andrews had a 62.
Last Tuesday, FC came in third in the team standings at the 2017 Superior Golf Invite. The home-course Wildcats won the invite with a 369. Fairbury was runner-up with a 372 and the Panthers were third with a 386.
"Fillmore Central placed third at the rescheduled Superior Invite," Panther coach Mitch Lockhart said. "The conditions for golf were not optimal. We really struggled to stay focused. As a team combined, we had a total of 19 strokes hit out of bounds or into water hazards. That adds up to a lot of penalty strokes. That type of play makes it very difficult to score well. Garrett Whitley placed sixth individually and Trevor Swartz placed eighth."
The tournament in Superior was played in 20-30 m.p.h. winds and temps in the 40s.
Whitley carded an 89 on April 25 and Swartz shot 91. Dakota Wilkins fired a round of 101 and Tanner Ourada was in at 105. Shalin Bhakta carded a 114. Fairbury's Justin Peterson was the tournament champion with a 74.
On Thursday, FC travelled to rural Hastings to play the Hastings St. Cecilia Invite at Southern Hills. The Panthers landed in fifth in the team standings with a 362. Adams Central was invite champions with a 336 at the 15-team tournament. The host Hawks were runners-up with a 339. Grand Island Central Catholic was third with a 344 and Wood River was next with a 353.
"Fillmore Central placed fifth among 15 teams at the STC Invite," Lockhart said. "Southern Hills can be a difficult course but our golfers did a pretty good job of controlling their play. Tanner Ourada had a pretty good day placing 11th with an 85. I knew Tanner was capable of playing well and it is nice to finally see a good round out of him versus some tough competition. As a team, we know there is still a lot of room for improvement. We continually talk about eliminating three putts, and how to avoid penalty strokes. The pressure is mounting as we approach conference and districts to perform and start making our rounds count."
The Panthers host the Southern Nebraska Conference Golf Championships this Thursday at the Hidden Hills Country Club in rural Geneva. The meet is slated to begin at 2 p.m. The next week, FC will travel to the Thayer Central Invite in Hebron before Districts on May 16. The State Golf Meet is May 23-24 in Norfolk.