BDS, E-M Girls Compete In CRC
Details

Published on Tuesday, 09 May 2017 19:09
Written by thenebraskasigna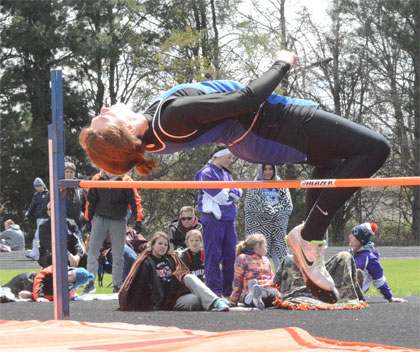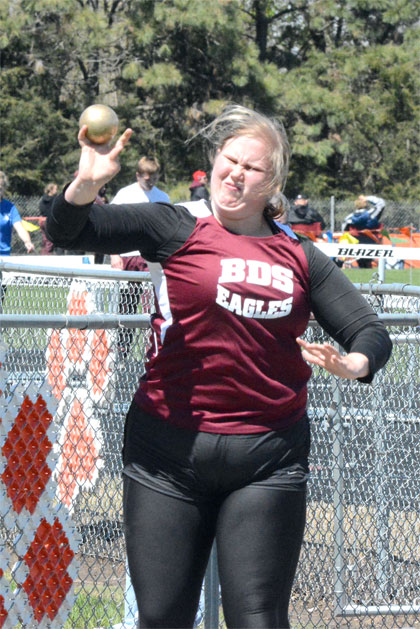 Between the Exeter-Milligan and Bruning-Davenport/Shickley girls track teams, the two squads were able to only produce one individual event winner at the 2017 Crossroads Conference (CRC) Track and Field Championships.
Timberwolf Hannah Beethe won the high jump in Osceola last Monday by clearing 4-feet, 10-inches and winning on least attempts. The E-M girls scored 46 points and landed in third place in the team standings, while the Eagle girls earned 25 points which tied for 10th at the 12-team conference meet.
Timberwolf Kate Jansky earned three medals on May 1. The E-M sophomore was second in the 800-meter run (2 minutes, 29.74 seconds); third in 3,200-meter run (12:48.73) and fourth in the 1,600-meter run (5:58.53). Teammate Katherine White also earned three medals on the day. The Timberwolf sophomore placed fourth in the 300-meter hurdles (50.38); fifth in the 100-meter hurdles (16.92) and ran a leg in E-M's fourth-place 1,600-meter relay. Other team members included Hailey Luzum, Beethe and Hannah Horne.
Tara Mueller earned two medals for E-M in the throws. The Timberwolf junior placed third in the discus (92-9) and fifth in the shot put (32-9.5). Eagle Tara Lee Hudson took runner-up honors in the discus (94-4) and sixth place in the shot put (32-7). BDS senior Courtney Kamler placed third in the pole vault by clearing 9-feet.
Other E-M and BDS results from the May 1 CRC Championships include: Mashaya Deirking, BDS, 100-meter dash, fifth, 13.89; BDS 400-meter relay team, fourth, 55.16; BDS 1,600-meter relay team of Jadyn Kleinschmidt, Carley Elznic, Sera Johnson and Deirking, fifth, 4:35.28; and Kleinschmidt, BDS, fifth, triple jump, 32-8.5.