One Point From CRC Team Championship
Details

Published on Tuesday, 09 May 2017 19:13
Written by thenebraskasigna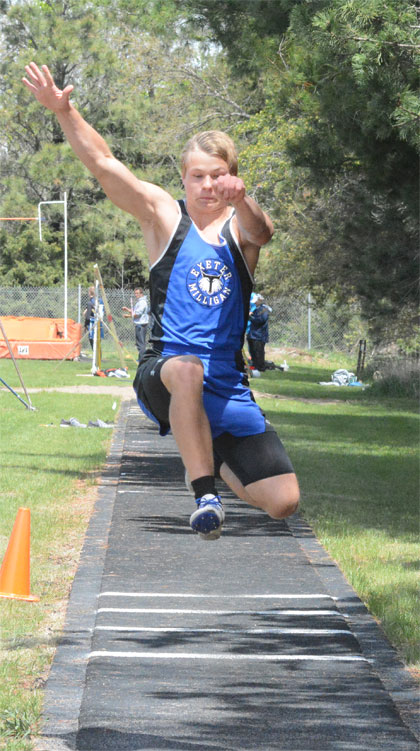 Exeter-Milligan boys track coach Brian Murphy's lethal combination of "T-N-T" combined to score 62 points at the 2017 Crossroads Conference (CRC) Track and Field Championships. Trystan Brandt netted 34 points with a win in the triple jump in Osceloa and three seconds, while Trevor Luzum won two events on May 1, the 300-meter hurdles and high jump and two other medals to score 28 points. In all, the Timberwolves notched 78 points—just one point behind Cross County for the team championship.
Brandt struck gold in the triple jump with a winning effort of 42-feet, 6-inches, which is in the Top 6 efforts in the state so far this year. The Timberwolf senior was also second in the long jump (20-11), runner-up in the 400-meter dash (54.17 seconds) and trailed in Luzum in the 300-meter hurdles (42.24).
Luzum cleared 6-feet, 2-inches to win the high jump in Osceola. Luzum's season best of 6-4 currently sets No. 2 in Class D this season. The E-M senior also won the 300-meter hurdles in 41.33 seconds. Luzum was third in the 110-meter high hurdles (15.62) and fifth in the triple jump (40-11.75).
Additional scoring for the Timberwolves was turned in by Mitchell Manning, who finished second in the 3,200-meter run in 10:57.62, and third in the 1,600-meter run, 4:59.52; and Patrick Murphy, who placed fifth in the high jump by clearing 5-8.