Nichols new FCH CEO
Details

Published on Tuesday, 20 June 2017 15:38
Written by thenebraskasigna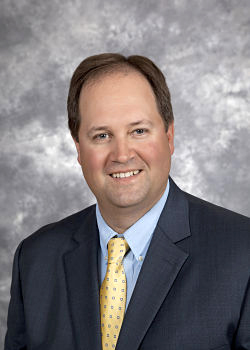 By GREG SCELLIN
Signal Editor
A Grand Island-native will become the fifth CEO of the Fillmore County Hospital (FCH) in Geneva.
The FCH Governing Board met on Wednesday, June 14, to make the important decision of hiring a new chief executive officer for FCH. After a long process involving 213 applications, numerous phone interviews, and two on-site interviews, the FCH Governing Board offered the FCH CEO position to Chris Nichols. Nichols later accepted the post.
"We were truly amazed with the number of quality applicants we received from all over the U.S.," FCH Governing Board Chairman DeBorah Hoarty said. "We had some outstanding applicants...we really did...just an outstanding field of candidates. To limit them down to the final two was very, very difficult."
Hoarty said each applicant and their spouses were able to spend a day in Geneva with hospital staff and department heads, doctors, school officials, area business people and the governing board.
"We wanted them to get a feel for the culture of the hospital," Hoarty said. "And, also a feel for the town and the schools. The fact that Chris is a 'Nebraska guy' was a good plus."
Nichols is originally from Grand Island and received his undergraduate degree from the University of Nebraska-Lincoln in 1995 and his master's degree in Physical Therapy from the University of Nebraska Medical Center in Omaha in 1998. He later obtained his master's degree in Healthcare Administration from the University of Minnesota in 2006.
Chris has served as the CEO of Horn Memorial Hospital in Ida Grove, Iowa since 2013. Ida Grove is located in northwest Iowa and is a city similar to Geneva in size, with a recent census of 2,142. Under his leadership, a new inpatient wing was constructed that replaced all of their current patient rooms. It is set to open for patient care on July 17.
Chris and his wife, Jaci, have three children, Garrett (14), Abby (13), and Ali (8). Prior to living in Ida Grove, the couple lived in Grand Island and are both licensed physical therapists in the state of Nebraska. Chris served as the director of two start-up Inpatient Rehabilitation facilities in central Nebraska. These two facilities included one at Mary Lanning Healthcare in Hastings in 2006, and the second one at St. Francis Medical Center in Grand Island in 2008. As lifelong Nebraskans, Chris and his family are extremely excited to return home to central Nebraska where they can be close to family and friends.
"I am extremely excited and honored to be chosen as the next CEO of Fillmore County Hospital in Geneva," Nichols said in a press release. "I am looking forward to the challenge and the opportunity of carrying on the legacy that Paul Utemark and the staff started here. I am drawn to the spirit and enthusiasm of the staff at Fillmore County Hospital and can't wait for my family to start the next phase of our lives in Geneva."
Hoarty said that Nichols has given the hospital board at Horn Memorial his 60-day notice. She said if they happen to find a new administrator earlier, Nichols could be in his new role here sooner. She also said she expects Jaci and family to be in Geneva in early August, as two of the couple's children expect to participate in sports at FC.
"We are lucky that our interim CEO Bill Welch has done such a great job for us," Hoarty said. "It makes things not such a rush. I truly feel that Chris will slide into his new roll here quite remarkably."
Past CEOs of Fillmore County Hospital include Paul Albright (1961-1968), Larry Warrelmann (1968-1989), Larry Eichelberger (1989-2008), and Paul Utemark IV (2008-2017).