Kotas Awarded A Quilt Of Valor
Details

Published on Tuesday, 27 June 2017 15:22
Written by thenebraskasigna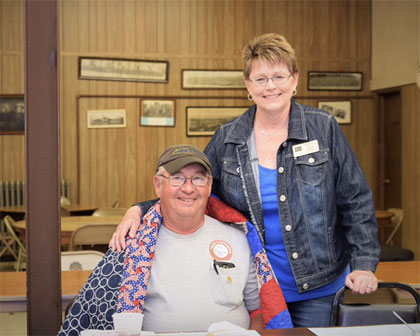 Dennis Kotas was awarded a Quilt of Valor on May 17, at the Milligan blood mobile held at the Legion building.
Dennis served in the Army from March 17, 1970, until October 1, 1971, during the Vietnam Conflict.
He held a rank of Sp-4 and was located at Fort Louis Wa., and Fort Carson Colo., with troop C1111 Sixth Infantry. Dennis started as a company clerk for a commander and was then transferred to motor pool as a TAMS clerk in the motor pool. It consisted of ordering all the parts required for maneuvers. He also drove a M114 personnel carrier.
Dennis was nominated by his cousin, Gerald Capek and Adrienne Capek presented his quilt.