Milligans Come To Milligan
Details

Published on Tuesday, 27 June 2017 15:25
Written by thenebraskasigna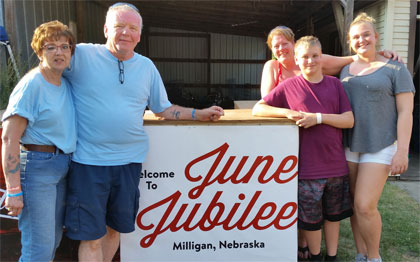 By Leesa K. Bartu
The John Milligan family from West Fargo, N.D., felt like they found their second home last weekend in Milligan.
Milligan and his wife Kylene first heard about the town of Milligan, when Pepsi made a splash with their commercial featuring the Lee Brice concert in town several years ago.
His daughter, Trish Sheffield, has lived in Omaha for the last 30 years and had heard about the town and their famous June Jubilee weekend celebration.
The family took a detour through Milligan a few months ago to check out the town and decided to come back for the Jubilee weekend.
Despite the heat, the family (along with grandkids Skylar and Michael Glynn) took in every bit of the weekend events.
They enjoyed every minute of the Jubilee according to John, "We love it, it's a great place," he said. "The Milligan's came to Milligan!"
As they got to know some of the residents, they made some special connections. They were thrilled to get some T-shirts and memorabilia from previous Jubilee's from the community.
Another highlight for Kylene was trying her first kolache. She enjoyed the apple filled treat before heading out in search of another flavor to try.
The Milligan's certainly haven't ruled out another visit to the town that shares their name and expressed their appreciation for the huge welcome they got over the weekend, "We may have found a great place to retire," John shared.