Biegert into Hall of Fame
Details

Published on Tuesday, 01 August 2017 13:25
Written by thenebraskasigna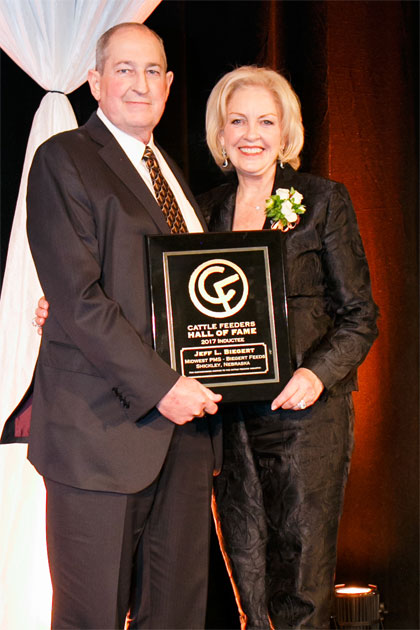 Last month, nearly 500 members of the beef industry gathered in Denver, Colo., to honor four individuals for their dedication to the cattle-feeding business.
Jeff L. Biegert—founder of Midwest PMS / Biegert Feeds of Shickley and Earl Brookover—founder of Brookover Feed Yards in Garden City, Kan., were inducted into the Cattle Feeders Hall of Fame, which annually honors two leaders who have made lasting contributions to the cattle-feeding industry. Dee Griffin, D.V.M, M.S., a clinical professor at Texas A&M University College of Veterinary Medicine, was presented with the Industry Leadership Award, recognizing individuals who have demonstrated outstanding leadership and provided exemplary service to the industry. Eulogio "Lohill" Dimas, feed yard manager at Southwest Feeders in Hayes Center, received the Arturo Armendariz Distinguished Service Award, which honors exceptional and hardworking feed yard employees.
Biegert was born and raised in Shickley, and he and his wife, Sally, lived in Geneva for 17 years.
Keith Downer, a retired Brookover Feed Yards foreman, presented the Hall of Fame award to the Brookover family. Downer remarked on Brookover being a kindhearted man who cared deeply about his employees. "The best years of my life were at Brookover Feed Yards," he said.
As honorees accepted awards, a common theme was heard: it's the people in the cattle industry who inspire success. After receiving his Hall of Fame award, Biegert humbly thanked his family and industry colleagues for support.
"This award would not have been possible without some real good partners," Biegert said.
When accepting the Industry Leadership Award, Griffin said, "All of you, this industry has given me far more than I will ever give," as he addressed the crowd full of cattle industry members.
Dimas also thanked his network of support, as he accepted the Arturo Armendariz Distinguished Service Award. "I'm grateful for my family, and for the support of all the people I work with at the feed yard," he said.
Biegert's 2017 Cattle Feeders Hall of Fame Honoree biography included the following information.
Jeff L. Biegert grew up under the Midwest motto of "hard work never killed anybody." He attended Texas Christian University, majoring in business. In 1976, Biegert moved back to Nebraska where he started a liquid feed manufacturing and cattle-feeding company called Biegert Feeds. Now known as Midwest PMS, the business has grown into 10 manufacturing sites and employs more than 150 people across Kansas, Nebraska, Colorado, Texas, Iowa and South Dakota. Biegert conducts business with a handshake and believes honesty, integrity and hard work are paramount. He has gained the loyalty of business partners, many who have worked with him for more than 30 years. When asked about his accomplishments, he responded, "Success is the result of hard work, learning from mistakes, never repeating them, and never giving up."
About the Cattle Feeders Hall of Fame
The Cattle Feeders Hall of Fame was established in 2009 to recognize and honor outstanding men and women in the cattle-feeding community. Additional information about the Cattle Feeders Hall of Fame and the honorees can be found at www.facebook.com/cattlefeeders and www.cattlefeeders.org. Founding partners of the Hall of Fame include Merck Animal Health, Drovers/CattleNetwork and Osborn Barr. Contributing banquet sponsors for 2017 included: CattleFax, Creekstone Farms®, Greeley Hat Works, Monson Family/Goose Ridge Estate Vineyards and Winery, National Cattlemen's Beef Association and Zoetis.