Milligan UMC Dedication Takes Place
Details

Published on Tuesday, 22 August 2017 15:08
Written by thenebraskasigna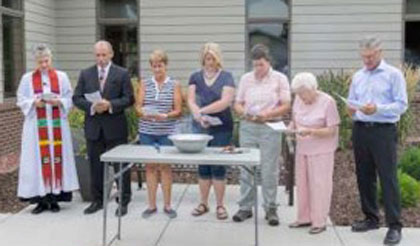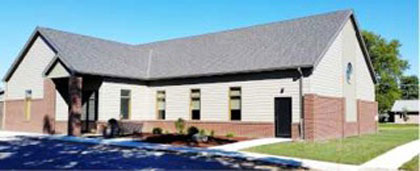 By JoAnn Vavra

The Milligan United Methodists had much to be thankful for on July 30. It was a day of reflection and celebration. A day to welcome, and a day to bid farewell. It was a day filled with tears, smiles and laughter.
It all began during Sunday Worship as the church welcomed Pastor Pat Norris and her husband Pat to their new charge at the Milligan United Methodist and Fairmont Community Churches. Pastor Pat is a native of Davenport, and now lives near Denton. She previously served Palmyra and Cheney for six years, York First and Waco for four years, and most recently Schuyler Christ in Rising City and Brainard United Methodist Churches.
The Dedication Service followed with Pastor Pat officiating. District Superintendent Lance Clay congratulated the church on their achievement and encouraged them to continue their journey of faith. Pastor Karla Sheffy was with the church when they began the building process, but she and her husband Pastor Ron Harris were appointed to the Aurora and Bradshaw United Methodist Churches just before the move into the new church. Pastor Karla thanked the church for the invite, applauded their accomplishments and gave encouragement to continue their journey. Former Pastor Sandra Blumanhourst wished the church well, then blessed those gathered by accompanying herself on the guitar, singing "Holy Spirit" by Francesca Battistelli.
Even though Milligan United Methodist moved into the new church in August of 2014, there was still much to be done, both inside and out. The Church Council chose to secure a loan at the bank in January of 2016 so these projects could be completed in a timely manner. After months of fund-raising, receiving grant money and obtaining matched funds, the bank note was recently paid in full.
At the end of the morning service, a congregational procession was led outdoors where the bank note was torn and burned by past and current church leaders. Once inside again, DS Lance Clay and Pastor Pat Norris anointed current members of the Church Council, Board of Trustees and Staff-Parish Relations Committee. They in turn anointed the furniture, fixtures, windows and doors of the new church for future ministry and blessing to God's people. Fellowship continued with a meal served by the church, with meat provided by the Smokin' Jokers.
In the afternoon, the church bid farewell to Pastor Brad Barrows and his wife Rhonda. They now serve the Pleasant Dale and Denton United Methodist Churches. The church family thanked Pastor Brad for all his talents and strengths that he and his wife shared with them in their two years in Milligan. Brad in turn, thanked the church for what he took away from his time in Milligan. He reminded them to continue the journey, a theme that reoccurred throughout the day. It was a memorable and important day in the life of the church. Members and friends of the church are so grateful for those that helped them to this point in their journey: for pastors, laity, townspeople, friends and businesses.
At the end of the celebration, Gayle Becwar entertained those gathered with his comedy and magic. He shared memories, told stories, did amazing illusions,and boasted a quick wit. So, it was fitting that a day starting out with a few tears, smiles and laughter would also end with Gayle Becwar providing more tears, smiles and laughter. What a blessing.