FC FBLA Has Busy Summer
Details

Published on Tuesday, 12 September 2017 14:44
Written by thenebraskasigna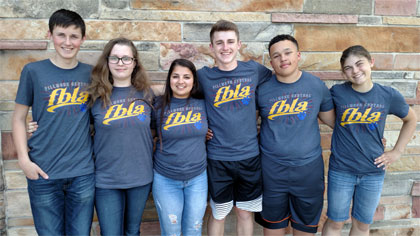 By:Abigail Parten,
Reporter
The Fillmore Central Future Business Leaders of America chapter had a busy summer. The summer started with the annual officer retreat held on May 31. FBLA officers, Historian Faith Lauber, Reporter Abigail Parten, Treasurer Darren Shroyer, Secretary Braden Myers, Vice President Ryan Poppert and President Alia Hurst, met to discuss Fillmore Central's upcoming plans for the 2017-2018 school year. The day was very productive, as the officer team brainstormed how to educate, empower and enhance our community. They also came up with a "Climbing to Success" theme for this school year. The officers chose this theme believing that students can climb to their own successes through FBLA.
June 28-July 3 found several members attending National Leadership Conference in Anaheim, Calif. In the meantime, the officer team prepared to represent Fillmore Central FBLA on July 4 with a float for Geneva Days. The float was patriotic, decorated with American flags, balloons, streamers and the FBLA banner. The FBLA officers rode the float throwing candy for the crowd. After Geneva Days was over a handful of FBLA members and officers helped to clean up around town.
On August 11, the officer team held another meeting in order to discuss recruitment strategies and plan the annual kick-off meeting. They also talked about other ways to increase member enrollment. A successful kick-off meeting was held with 58 prospective members in attendance on August 21. Currently dues are being collected from those wishing to join this year.
Overall, Fillmore Central FBLA had an exciting summer and Adviser Mrs. Talley and the officer team are looking forward to another great year participating in school and community activities.
The next service activity will be assisting with the Heritage Carnival on September 10 followed by the regular meeting on September 14.