E-M 6-3 On Year
Details

Published on Tuesday, 12 September 2017 14:53
Written by thenebraskasigna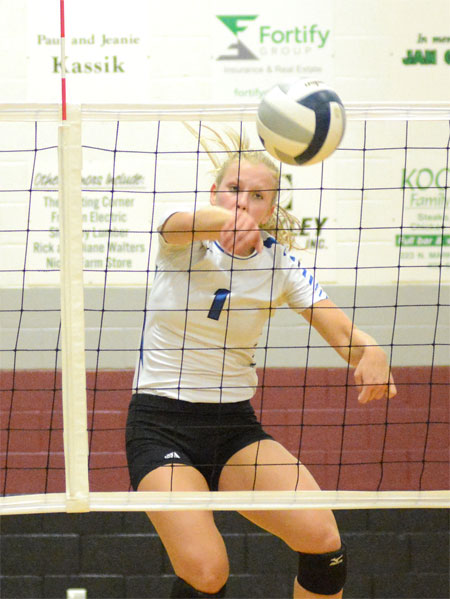 With a 2-1 performance at the Friend Volleyball Invite, Exeter-Milligan finds itself with a 6-3 season mark.
The Timberwolves rolled past Sutton 25-15, 25-9 on Saturday. Both Katherine White and Hannah Beethe blasted seven kills against the Mustangs. Kate Jansky and Tara Mueller both added three terminations. Anna Sluka put up 16 assists and thumped three ace serves.
Next, E-M fell to Meridian 25-19, 25-21. Mueller cracked seven kills against the Mustangs and Beethe added six terminations. White crunched four kills and posted six blocks. Sluka had 17 assists. Beethe, Janksy and White all pounded out an ace serve. White also paced the defense with seven digs.
E-M also blasted past the home team, 25-12, 25-17, on September 9. White slammed nine kills and Beethe had six. Sluka smacked four ace serves and tallied 19 assists. Jansky recorded four blocks and four kills. Mueller slapped down two kills and Katie Mounce recorded three digs.
On Thursday, September 7, E-M zipped past McCool Junction 25-13, 25-10, and fell to Meridian 25-18, 25-22, in a triangular in McCool Junction.
Jaiden Papik smacked 11 kills for the Timberwolves against the Mustangs. Mueller added seven terminations and White had six. Sluka recorded 18 assists.
White blasted down 10 kills against Meridian and Beethe nailed eight. Sluka tallied 22 assists.
On Tuesday, September 5, E-M downed Giltner 25-20, 20-25, 25-18 and Osceola 25-10, 25-15 in a triangular in Giltner.
Mueller belted a dozen kills against the Hornets. Beethe smacked down 10 kills and White had nine. Sluka tallied 38 assists.