Eagles Roll Past T-C
Details

Published on Tuesday, 12 September 2017 14:54
Written by thenebraskasigna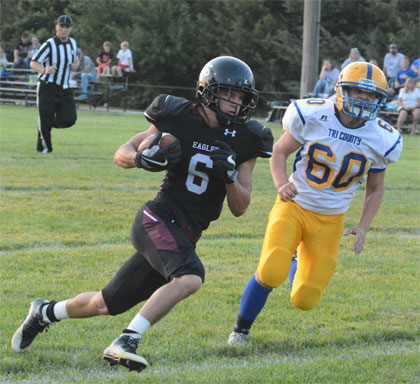 Seven minutes into its game against Tri County, Bruning-Davenport/Shickley was up 36-0. The 2-0 Eagles led the contest 48-0 after one period and by the same score at halftime. Substituting freely and with a second-half running clock, the Trojans would score twice in the final two periods in the 48-13 BDS win, which was Homecoming in Shickley.
"We are happy that, right now, our first-string defense has not been scored on yet and that our first-string offense has not turned the ball over yet," Eagle co-head coach Mark Rotter said.
Both Garrett Schardt and Thomas Mick scored twice for BDS. Karson Dickson snagged a TD pass from John Christensen and also caught two PAT conversion passes. Christensen rushed for a score and a PAT and hooked up with Holden Stengel for a TD pitch-and-catch.
Christensen passed for 89 yards and rushed for 47 more in limited action. Schardt hauled in 51 yards receiving. Back-up quarterback Logan Schroeder threw for 17 yards and rushed for 47 more.
With reserves seeing three quarters of action, many underclassmen hit the stat lines on Friday in Shickley.
"Isaac Kamler and Caleb Hendrickson, both junior linebackers, were all over the field defensively—they combined for 10 total tackles," Eagle assistant coach Scott Shipley said.
BDS plays at 1-2 Axtell this Friday night.