FCH receives wellness award
Details

Published on Tuesday, 26 September 2017 14:52
Written by thenebraskasigna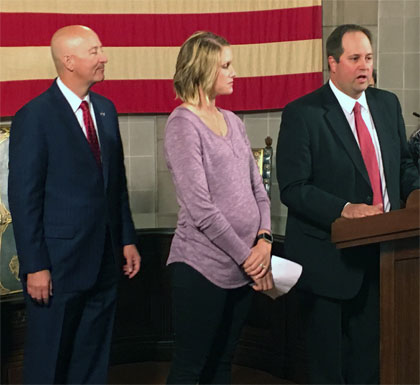 Last week, Neb. Governor Pete Ricketts and the Nebraska Department of Health and Human Services (DHHS) announced this year's recipients of the Governor's Wellness Award. A total of 54 Nebraska employers representing 34 communities are being honored for offering evidence-based worksite wellness programs for their employees. The Fillmore County Hospital (FCH) in Geneva was one of the 54 Nebraska employers that were honored.
"The businesses recognized today are putting people first and are making the workplace a healthy environment," Governor Ricketts said. "Worksite wellness provides an opportunity for Nebraskans to live healthy lives, improve quality of life, and help grow a healthier Nebraska for the next generation."
"Employees clearly benefit from worksite wellness programs and recent health-related outcomes have been significant," said Judy Martin, Deputy Director of Community and Environmental Health for the Nebraska Department of Health and Human Services. "In this past year, award recipients increased the percentage of people meeting Surgeon General Guidelines for Physical Activity by more than 16 percent, reduced tobacco use by almost nine percent, and decreased overweight/obesity by nearly three percent. Great work also continues to manage stress and improve culture within these organizations."
FCH CEO Chris Nichols and Jenni Hoarty, FCH Wellness Coordinator, spoke about the hospital's efforts and success with their outcomes-based wellness program. In 2010, FCH implemented a wellness program to support and encourage employees to become aware and conscious of their health and overall wellness. One of the main focuses of the wellness program is to identify individual risk and provide support in reducing that risk.
Annually, employees and covered spouses are encouraged to participate in the metabolic syndrome screening. Metabolic Syndrome refers to a group of risk factors that occur together and increase the risk of chronic diseases such as cardiovascular disease, stroke, diabetes, and many cancers. Individuals learn more about their health status by completing the screening, which includes a fasting blood draw, waist circumference measurement, and blood pressure check.
Since the screening was implemented five years ago, FCH has reduced the prevalence of Metabolic Syndrome by 12 percent among screened employees. The decline is largely due to the risk reversal program, which is offered for free to individuals who are identified with three or more risk factors.
This year, marks the 10th year recognizing businesses that dedicate leadership, resources, and time to wellness efforts in the workplace. The application process is designed to recognize businesses that have planted and nurtured the seed for wellness within their organization. Each applicant must provide information in the areas of leadership, data collection, intervention strategies, policy/environment support, and evaluation of outcomes.
The Governor's Wellness Award has two categories. The Sower Award recognizes workplaces that have established quality wellness programs; the Grower Award honors businesses and organizations demonstrating significant improvement in employee health behaviors. Including this year's winners, 383 total awards have been distributed across the state.
Awards will be presented to this year's winners at four separate award ceremonies during the coming months. The award ceremonies will be held in Gering on September 21, Kearney on September 28, Lincoln on October 11, and Omaha on November 7.
Nebraska employers can apply for the Governor's Wellness Award online at www.nebraska.gov/wellness. Awards are presented annually and are good for three years. The award program is a partnership of the Governor's Office, DHHS, and the Nebraska Safety Council/WorkWell. For employers interested in starting a wellness program or enhancing an existing one, contact WorkWell to be directed to a wellness council in your area: (402) 483-2511 ext. 109.