Timberwolves Get In Win Column
Details

Published on Tuesday, 03 October 2017 20:10
Written by thenebraskasigna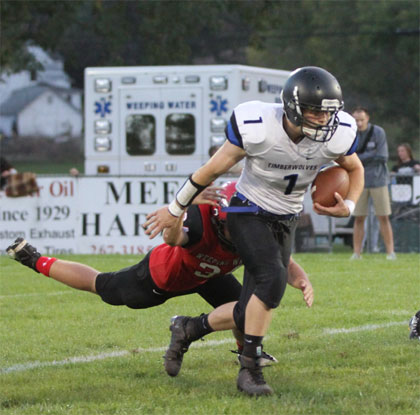 Exeter-Milligan scored early and often on Friday night in Weeping Water to record its first victory of the season—an impressive 58-6 win over the Indians.
Timberwolf quarterback Spencer Pribyl hooked up with Jackson Beethe for a 62-yard pitch-and-catch to start the E-M scoring. Colton Bossaller crashed in from 10 yards out for score No. 2. He also converted the PAT. Pribyl snuck in from a yard out to make the score 20-6. Bossaller hit paydirt again from five yards out and Pribyl again found the end zone to have the visitors up 34-6 midway through the third period.
Pribyl hooked up with Seth Maxson from 36 yards for a TD. Bossaller converted the PAT. Joey Bartu galloped in from one-yard out for a score and also hammered in the PAT. Trevor Zelenka capped the E-M scoring with a two-yard run. A Pribyl to Maxson PAT pass made the score 58-6.
The E-M defense was stout allowing Weeping Water just 83 yards. Pribyl was 6-for-10 passing for 145 yards and two scores. On the ground, Pribyl carried the rock 17 times for 74 yards. Bossaller rushed 16 times for 58 yards, Bartu went seven times for 30 yards. Zelenka added two yards and Max Zeleny gained a yard.
Beethe snagged one pass for 62 yards and Bossaller caught two balls for 42 yards. Maxson had three receptions for 41 yards.
Zeleny paced the E-M defense with 11.5 tackles. Bartu and Bossaller both logged six tackles. Pribyl and Ryan Sharp both had 4.5 tackles. Maxson had three stops and Zelenka had 2.5.