BDS Marches Toward Showdown
Details

Published on Tuesday, 03 October 2017 20:11
Written by thenebraskasigna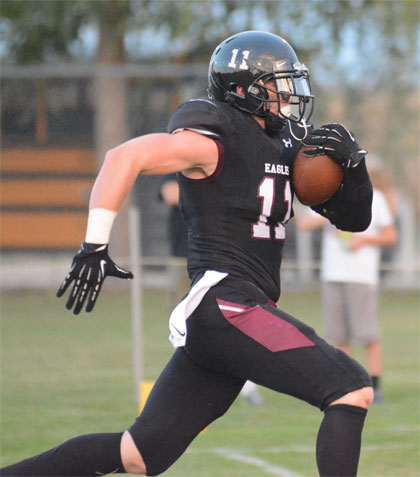 Friday night's 57-20 win over Sterling was Bruning-Davenport/Shickley's final dress rehearsal before this Friday afternoon's clash with Falls City Sacred Heart. The Eagles will match up with the Irish in the battle of No. 1 and No. 2 teams in Class D-2 at Jug Brown Stadium in Falls City at 2:30 p.m.
"We improved this week in our mental focus in the first quarter," said Eagle co-head coach Mark Rotter, who notched his 200th career coaching win with the victory over the Jets. "We're got a giant challenge ahead of us for next week—an opportunity we've been looking forward to for the past 11 months."
The Eagles peppered the scoreboard for 41 first-quarter points Friday. BDS led the contest 57-6 at the break. Josh Swartzendruber caught two TD passes and rushed for a PAT in the win. Karson Dickson hauled in two TD passes and carried them to the end zone. Garrett Schardt snagged a TD pass and Thomas Mick rushed for a score and a PAT. Caden Norder returned an interception to the house and John Chistensen rushed for a score. Dominic Quinones rushed for a PAT.
Sophomore Swartzendruber paced the defense with 11 tackles.
"Josh only weighs 114, but he has a unique method of getting a guy down in the open field," Eagle assistant coach Kole Ficken said.
BDS amassed 441 total yards in the win, while allowing only 191. Christensen passed for 158 yards and rushed for 55 more. Schroeder had 65 yards rushing and Mick had 53. Dalton Kleinschmidt rushed for 40 yards. Dickson had 99 yards receiving. Kyle Ardissono also had 11 tackles.
The win over Sterling was Rotter's 200th win. He has State Championships in Benedict, Bruning-Davenport and BDS.
"I would like to thank all the players over all these years who believed in what we were doing," Rotter said. "I would also like to thank the coaches who have helped...at Benedict, Ron Nickel and Todd Rhodes, at B-D Rick Henry, Kole Ficken and Kevin Williams, at Shickley, Scott Shipley, and of course, Chris Ardissono for all his help."
Rotter has coached for 27 years with 25 years as a head coach. Rotter's coached teams have also won two State Runner-up titles.
The September 29 contest was also Homecoming in Bruning-Davenport.