E-M Now 16-5
Details

Published on Wednesday, 11 October 2017 13:40
Written by thenebraskasigna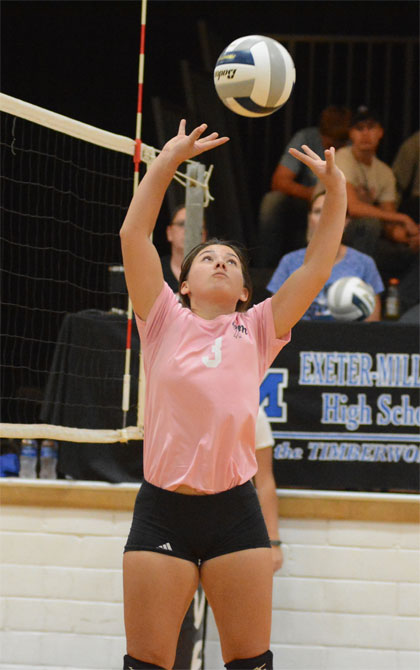 With three victories last week, including a big pink-out win over Nebraska Lutheran, Exeter-Milligan improved to 16-5 on the season and No. 4 in wildcard points in Class D-2.
The Timberwolves downed Nebraska Lutheran 25-17, 25-21, 26-24, last Tuesday in Exeter.
Katherine White belted 14 kills against the Knights and Hannah Beethe added 11 terminations. Kate Jansky smacked nine kills and Tara Mueller added seven kills. Anna Sluka tallied 33 assists in the win.
Beethe nailed three ace serves and White and Daisy Kanode both thumped two ace serves. Janksy and Beethe both had an ace block. White came up with 11 digs and Beethe had 10. Jansky posted seven digs and Sluka had six. Katie Mounce and Mueller both tallied five digs.
On Thursday, the Timberwolves rolled past Dorchester 25-12, 25-19.
White smacked six kills and Beethe had five. Mueller added four kills and Jansky had three. Sluka recorded 18 ace sets. Sluka and Mueller both slammed down two ace serves. Jansky came up with five ace blocks. White and Beethe both had six digs, while Sluka had four.
Next, E-M cruised past Cross County 25-16, 25-13.
White cracked down a dozen kills and Beethe added 10 terminations. Mueller added six kills. Sluka put up nine assists and Kanode added four ace sets.
Sluka belted three ace serves and Kanode added a pair. White nailed an ace serve and had an ace block. Mueller posted two ace blocks. Beethe came up with a dozen digs.
E-M plays at High Plains and East Butler this week before competing in the 2017 CRC Volleyball Tournament beginning this Saturday in York.