Eagles Rolling Into CRC Tourney
Details

Published on Wednesday, 11 October 2017 13:41
Written by thenebraskasigna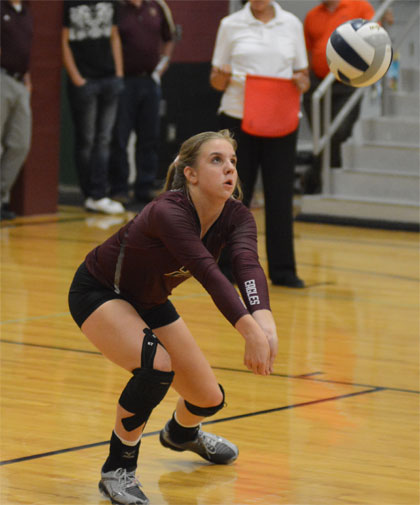 Bruning-Davenport/Shickley picked up a pair of wins to improve to 16-3 on the season. The Eagles are No. 3 in wildcard points in Class D-1 behind Johnson-Brock and Meridian.
BDS downed East Butler 25-8, 25-12 to begin play in a home triangular on October 3. Carley Elznic, Regan Alfs and Kim Ardissono started the match off with kills. Jadyn Kleinschmidt finished off the first match at the service line with three ace serves.
"The Eagles did a great job of getting the ball to the setter and spreading out the offense," BDS head coach Kari Jo Alfs said.
The Eagles blew open the second set after it being tied at seven.
Alfs pounded 10 kills and Elznic had seven. Macy Kamler thumped six kills. Kamler posted two ace blocks. Megan Grote paced the defense with eight digs.
BDS rolled past Osceola 25-5, 25-7.
"We came out on fire in this match," Alfs said.
Alfs and Ardissono were hot in the kill department and Grote and Kleinschmidt were strong at the service stripe. BDS did not let down in the second set either.
"Jordan Bolte did a nice job coming in and running the Eagle attack and substitute Jen Holtzen ended the game with a kill," Alfs said.
Alfs thumped eight kills for the winners and Kleinschmidt and Ardissono both had four. Kleinschmidt tallied 18 assists and Kamler had four digs.
BDS travels for a triangular on Tuesday and hosts another triangular this Thursday. The 2017 CRC Volleyball Tournament begins this Saturday.