E-M Gets Past PC 42-14
Details

Published on Wednesday, 11 October 2017 13:45
Written by thenebraskasigna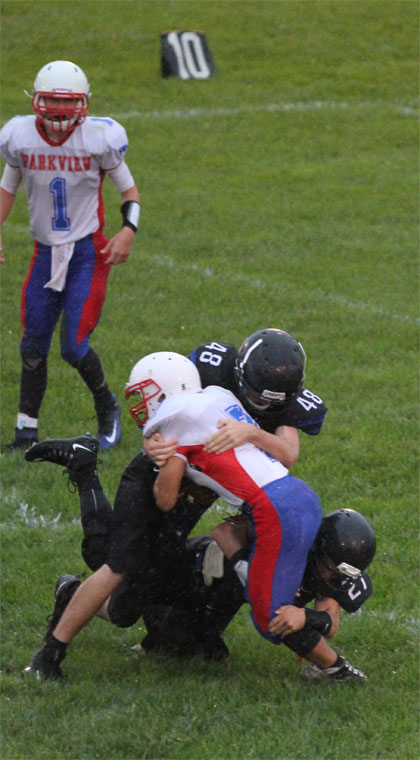 Exeter-Milligan picked up its second win of the season Friday night with a 42-14 victory over Parkview Christian. It was also Homecoming for the Timberwolves.
Spencer Pribyl got the scoring started on October 6 with a seven-yard pass to Trevor Zelenka. Colton Bossaller cashed in the PAT. The Patriots would score on their next two possessions to take a 14-8 lead after one period of play in Milligan.
It was all Timberwolves from there. Bossaller rambled in from seven yards to have the game knotted at 14 at intermission. Bossaller would scamper in from 22 yards out to put the home team up for good. Pribyl added the PAT. Pribyl would sneak in from a yard out and convert the PAT to have E-M up 30-14 after three periods of play.
Bossaller scooped up a Parkview Christian fumble and scored to begin the fourth quarter. Pribyl would cap the game's scoring with a four-yard TD run late in the contest.
E-M held the Patriots to just 110 total yards and six first downs in the contest. Parkview Christian also turned the ball over four times and committed 70 yards in penalties.
Bossaller rushed 35 times for 185 yards in the damp conditions. Joey Bartu rushed seven times for 23 yards. Bossaller also caught two passes for 13 yards. Trever Zelenka snagged one pass for seven yards.
Bartu paced the E-M defense with 10.5 tackles. Max Zeleny logged 6.5 stops and Bossaller was in on 4.5 tackles. Pribyl had four tackles and Zelenka had three. Johnny Babula had 2.5 tackles and Ryan Sharp had two. Seth Maxson, Nick Hayek and Jackson all had one tackle for the Timberwolves. Zeleny returned one kick-off for 36 yards.
E-M has a bye week.