FC Can't Corral Mustangs
Details

Published on Tuesday, 17 October 2017 15:53
Written by thenebraskasigna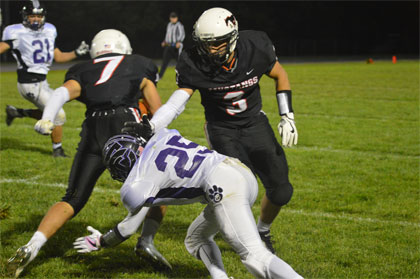 Fillmore Central fell to 1-7 on the season after lopsided loss at Sutton on Friday. The 7-1 Mustangs scored early and often in the 62-0 win, including a 46-0 halftime lead and lone scores in the third and fourth quarters.
The Mustangs wasted no time putting up 30 points on Fillmore in the first quarter. FC's first possession only resulted in five offensive yards. The fourth down punt was blocked by Sutton and was recovered on the 9-yard line. The short field allowed Sutton to get things rolling for them early.
Sutton put up 482 yards of offense to the Panther's 101 yards. FC only converted six first downs to Sutton's 15. Two interceptions and multiple injuries left FC struggling to find any continuity, noted Panther head coach Mitch Lockhart. By the end of the game, FC had 10 of the 22 starters injured and no longer in action.
This Friday, Fillmore Central hosts state-rated No. 4 and undefeated Arcadia-Loup City in Geneva.
Awards:
Defensive player of the game: #44 Koby Head.
Team Player of the game: #51 Riley Moses.
Scout team player of the week: #4 Carson Scott.
Special teams player of the game: #21 Seth Kenley.