E-M Enters Post-season No. 3 In D-2 Wildcard Points
Details

Published on Wednesday, 01 November 2017 14:49
Written by thenebraskasigna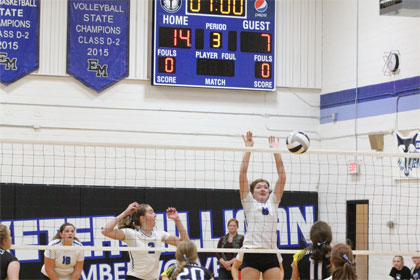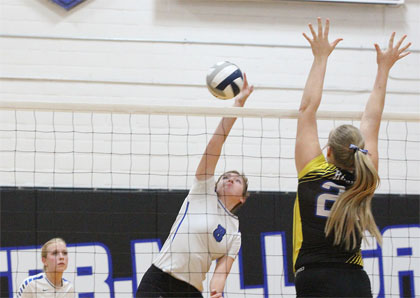 Exeter-Milligan entered D2-2 Sub-district play with a season mark of 21-6 and No. 3 in wildcard points in Class D-2. With a win over Dorchester, more than likely, the top-seeded Timberwolves would play 18-7 Mead, more than likely, in the sub-final on Tuesday in Shelby. This victory should send E-M to the Thursday D2-1 District final against either 16-11 Falls City Sacred Heart or Sterling (12-15).
Ewing (24-2) is the top wildcard in D-2 and the Tigers are big favorites to win their sub-district and district. Red Cloud (26-4) is No. 2 in wildcard points in Class D-2 and will, more than likely have to down 20-8 Giltner in its sub-district final. The Warriors did sweep the Hornets on October 10. Axtell probably will await in the district final. Mead defeated Red Cloud in the regular season. The Timberwolves six losses are four times to D-1 No. 2 Meridian and once each to D-1 No. 3 Bruning-Davenport/Shickley and unranked Kenesaw.
The Timberwolves ended regular-season play on October 24 with a 25-18, 25-15, 25-16 win over Class C-2 Shelby/Rising City.
Katherine White blasted 19 kills against the Huskies and Hannah Beethe added nine terminations. Tara Mueller and Kate Jansky both slammed four kills. Daisy Kanode added a kill and an ace serve.
Anna Sluka posted 18 ace sets and Kanode added nine assists. Beethe smashed three ace serves and both White and Jansky belted a pair of aces. Sluka and Kanode both laced an ace serve, as well. White and Jansky both had a pair of ace blocks and Mueller also added one at the net.
Beethe paced the E-M defense with 20 digs. White tallied 14 and Mueller had 10. Sluka recorded seven digs and Kanode had five.