Moles Digs Through E-M Defense
Details

Published on Wednesday, 01 November 2017 14:53
Written by thenebraskasigna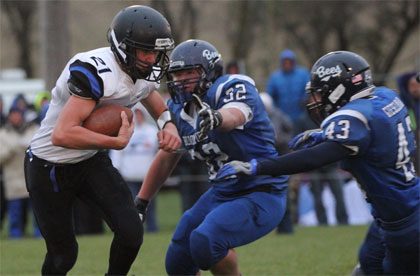 Bloomfield proved worthy of the top-seed in the East part of the D-2 State Play-off bracket with a 76-6 win over Exeter-Milligan Thursday night in Bloomfield.
Bee Quinten Moles was a one-man wracking ball for the home team, as Moles scored eight times on October 26 with touchdown runs of 5, 76, 33, 19, 22, 66, 42 and 41 yards. In all, Moles carried the ball 12 times for 346 yards. The Timberwolves scored late in the contest when Spencer Pribyl connected with Trevor Zelenka for a 23-yard touchdown.
Bloomfield scored 42 first-quarter points. The 9-0 Bees also scored on a kick-off return and a fumble recovery. A suffocating Bloomfield defense held E-M to just 43 yards of total offense and five first downs. The Bees also forced five turnovers.
Joey Bartu rushed for 22 yards in the contest and Zelenka hauled in the 23-yard TD pass. Bartu also paced the defense with 8.5 tackles. Zelenka had 3.5 stops and Seth Maxson had 2.5. Pribyl, Colton Bossaller, Johnny Babula and Nick Hayek all logged 1.5 tackles. Theron Odvody had one stop. Jackson Beethe averaged 28 yards per punt. Max Zeleny had 73 yards in kick-off returns and Bossaller had 21. E-M ended its season at 3-6. Bloomfield advanced to play Randolph.