Eagles Move On
Details

Published on Wednesday, 01 November 2017 14:55
Written by thenebraskasigna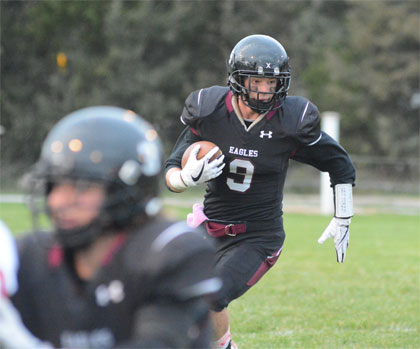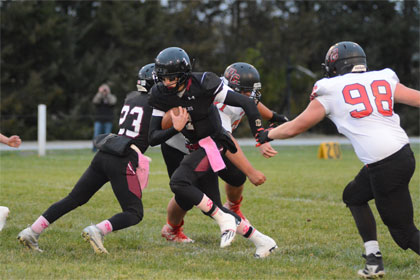 Bruning-Davenport/Shickley took care of business Thursday night downing outmanned Pawnee City 60-16. The 9-0 Eagles led the contest 46-0 shortly into the second quarter before BDS sent in its second string. The East No. 2-seed Eagles led 46-8 at half time.
BDS scored twice in the third quarter and the Indians added eight in the final stanza. The game started with a continuous clock. With the victory in the first round of the NSAA Class D-2 State Play-offs, the Eagles advance to play 8-1 Fullerton this Wednesday night in Bruning. Kick-off is slated for 7 p.m. Fullerton advanced with a 30-24 win over Osceola.
"We functioned at a very high level against Pawnee City," BDS co-head coach Mark Rotter said. "We will need to keep doing that this week against Fullerton."
Eagle Thomas Mick scored the first four touchdowns on Thursday night the first four times he touched the ball. The senior speedster returned the opening kick-off 77 yards; then added TD jaunts of 11 and 18 yards; and capped off the scoring blitz by hauling in a 31-yard pass from BDS quarterback John Christensen.
"Thomas (Mick) just had too much speed for their defenders...he wasn't touched on any of the plays," Eagle co-head coach Chris Ardissono said.
Josiah Kamler rushed for a score and two PATs for BDS and Dylan Domeier also found the endzone. Logan Schroeder scored twice for the Eagles. Christensen, Glen Meyer and Dominic Quinones added PATs to the offensive total.
Schroeder, the squad's back-up quarterback, was the leading rusher in the contest with 65 yards on nine carries. Assistant coaches Scott Shipley and Kole Ficken noted that Domeier played exceptionally well on defense with seven tackles. The sophomore running back/defensive back also rushed for 57 yards.
Karson Dickson and Schroeder both logged six tackles.
With a win Wednesday night, BDS will play the Friend/Wynot winner Tuesday, November 7. If the Bulldogs prevail, the game will be played in Shickley. If the Blue Devils win, BDS will travel to Wynot.