Eagles Fly Past Fullerton
Details

Published on Tuesday, 07 November 2017 16:54
Written by thenebraskasigna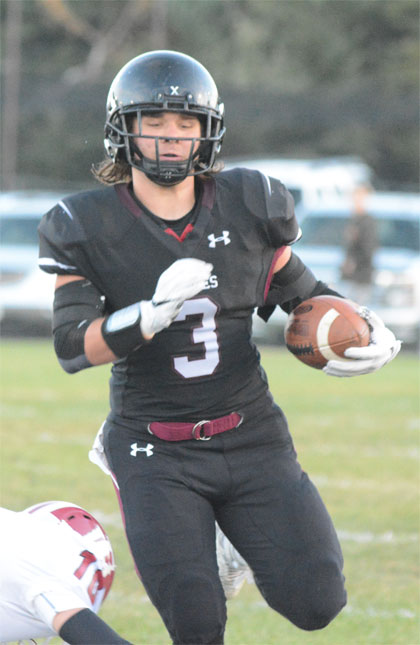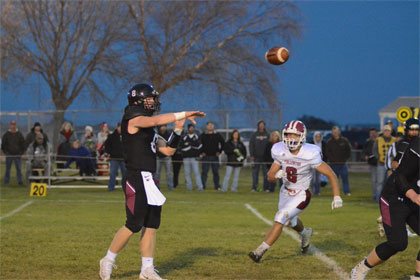 Bruning-Davenport/Shickley followed up its victory over Pawnee City with an equally impressive win over Fullerton Wednesday night in Bruning in the second round of the D-2 State Football Play-offs. Eagle co-head coaches Mark Rotter and Chris Ardissono began substituting this week in the second quarter.
"It really reminded me of the Randolph game last year where we were absolutely on fire," Rotter said.
The 10-0 Eagles scored early and often against the 8-2 Warriors—putting up 20 first-quarter points and 30 more in the second quarter. Fullerton scored twice in the second half to make the final score 50-16. The Warrior offense couldn't produce a first down in the first half.
With the victory, BDS advanced to play at Wynot on Tuesday (November 7) in the state quarterfinals. With the win, the Eagles will host a D-2 state semi-final game on Monday, November 13, in Shickley.
Thomas Mick hit paydirt four times for the Eagles against Fullerton and also scored two PATs. Mick scored four touchdowns last week, as well. BDS signal caller John Christensen cashed in twice for scores and Holden Stengel snagged a TD pass. Karson Dickson and Dylan Domeier both scored PATs.
But the tone of this victory was defense. The BDS defense limited Fullerton to 38 yards of offense in the game's first half.
"We rotate our front three defensive linemen...Karson Dickson, Kamron Dickson, Nolan Weber, Jacob Schoenholz and Glen Meyer," Ardissono said. "In the first half, they helped hold Fullerton to 27 yards rushing and no first downs."
Schoenholz and Caden Norder combined to force a first-half interception.
"Those two combined for a smart play in the second quarter that gave us an interception," BDS assistant coach Scott Shipley said.
Mick accounted for 152 total yards of offense. Christensen passed for 93 yards and rushed for 73. Logan Schroeder rushed for 37 yards. Norder had 22 yards from scrimmage.