E-M Downs Meridian, Falls To BDS In OT; Eagles Now 12-4
Details

Published on Tuesday, 23 January 2018 17:40
Written by thenebraskasigna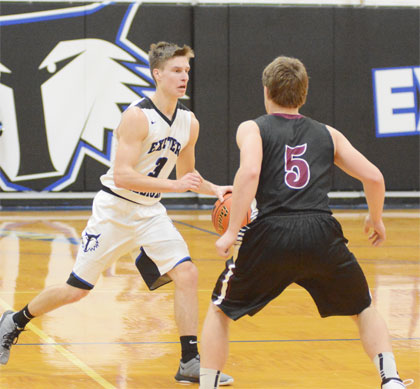 Exeter-Milligan cruised past Meridian and fell to Bruning-Davenport/Shickley in overtime in boys basketball action last week. The Timberwolves enter CRC Tournament action at 13-3 and No. 3 in wildcard points in Class D-2.
E-M got out of the gate quick at Meridian posting a 19-2 first-quarter advantage and never looked back. Patrick Murphy scored 15 points for the winners and Eric Olsen added 13 points, seven rebounds and five assists. Seth Maxson and Max Zeleny both tossed in eight points. Trever Zelenka netted four points and Spencer Pribyl scored three points and grabbed 13 rebounds. Clint Oldehoeft scored a basket for E-M.
On Friday, in a battle of state-rated Class D teams, the Timberwolves controlled the first half and led 28-25 at intermission. E-M maintained its lead through three quarters before BDS rallied in the fourth quarter (19-14) to force overtime. The Eagles outscored E-M 17-8 in the extra period.
Olsen scored 26 points for the Timberwolves and dished out five assists. Murphy laced in 16 points and Zeleny added 15 points and grabbed 15 rebounds. Maxson scored five points and both Pribyl and Johnny Babula added a bucket.
Caden Norder paced the Eagle offense with 26 points. Garrett Schardt tossed in 14 points and Taylor Anderson had 10 points. Anthony Beavers scored nine points and grabbed seven rebounds. John Christensen netted seven points and dished out six assists. Holden Stengel, Jackson Grote and Logan Schroeder all had three points. On Tuesday, BDS, 12-4 and No. 6 in wildcard points in Class D-1, defeated McCool Junction 63-47.
E-M and BDS are seeded first and third this week.