BDS Wins CRC Title
Details

Published on Tuesday, 30 January 2018 16:40
Written by thenebraskasigna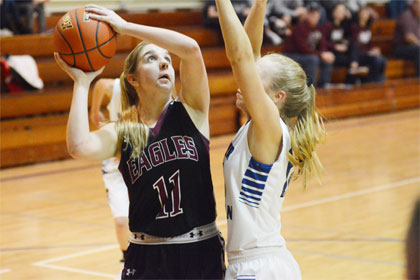 By GREG SCELLIN
Signal Editor
For the third time in less than two weeks, the Bruning-Davenport/Shickley and Exeter-Milligan girls squared off to play a basketball game. This time, the winner would claim the 2018 Crossroads Conference Basketball Tournament title. The contest was also a match-up of Top 3 state-rated teams and the third straight year that BDS appeared in the CRC final in York.
The 17-2 Eagles used a 21-6 second-quarter surge to roll past the 15-4 Timberwolves 53-40 on Friday at the York City Auditorium. The game was tied at 10 after one quarter of play, but a combination of Eagle full-court pressure and lights-out BDS shooting resulted in a 19-1 run during one point in the second quarter and the Eagles being up 31-16 at intermission.
"At the quarter break, I told the girls that I felt they could turn up the defensive pressure," BDS coach Shana Gerberding said. "Our defense leads to our offense and just gives us an extra boost on the offensive end. We started pushing the ball."
The main cog in the fast-paced Eagle offense is senior point guard Lexi Kadel, who handled the E-M defense all game and scored 15 points and dished out six assists.
"She's like having a coach on the floor," Gerberding said. "She never loses her cool. We're sure going to miss her next year."
Kadel was excited about the win but knows some more goals lie ahead.
"We work hard all season to keep improving and I think we are," she said.
The second half was a draw with the Timberwolves actually outscoring BDS 24-22 in the final two periods. But, the Eagles' depth and full-court press in the second quarter had done its damage. E-M ended up with 21 turnovers in the game compared to seven for BDS.
"You just can't turn the ball over that many times in a game like this," Timberwolf coach Jackson Krejci said.
E-M was led in scoring by Kate Jansky with 11 points. Katherine White scored nine points and grabbed six rebounds. Anna Sluka added seven points. Tara Mueller pulled down 10 rebounds.
Both teams shot 34 percent from the floor and both squads made six 3-pointers. Turnovers were clearly the difference in the game.
Carley Elznic scored a dozen points and had four steals for the winners. Macy Kamler added eight points and Jadyn Kleinschmidt swished in six. Seven players scored for BDS and 10 saw significant court time.
"Everyone came out and contributed to the win," Gerberding said. "Our guard's defensive pressure was awesome, everyone worked hard to get good box-out position and our defensive communication was key. That's a great thing about these kids...they all contribute. They are a very unselfish bunch."
Third-seeded BDS began CRC Tournament play with a 54-26 win over Dorchester. Kamler scored 16 points to pace the Eagle offense against the Longhorns. Regan Alfs added 12 points and snagged 11 rebounds. Megan Grote added 10 points and made six steals. Kadel dished out seven assists and made four steals.
BDS and Meridian faced off in one CRC semi-final contest in a battle of Top 3 state-rated Class D-1 squads. The first half found both teams playing tough defense and neither team was able to pull away from the other. The Eagles trailed by one at half time 26-25. The second half the Lady Eagles outscored the Mustangs 41-16. The final was 66-42.
"Defensively, the girls were able to shut down Meridian in that second half," Gerberding said. "Everyone played so hard and never let up on the defensive end. Meridian has such great shooters that you cannot give them any space to get an open look at the basket."
Grote had the hot hand in the game knocking down six 3-pointers in the game (one short of a CRC record) and finished with 20 points, Kadel added 16 points and eight assists and Kleinschmidt contributed 10 points as well. BDS was dialed in offensively and shot 50 percent from beyond the 3-point arc and 67 percent from inside the arc in the game.
BDS now has four remaining regular-season games, including a rematch with Meridian, before sub-district play.
"The girls are playing really well right now," Gerberding said. "They are very confident right now, which is huge."