E-M At CRC
Details

Published on Tuesday, 30 January 2018 16:42
Written by thenebraskasigna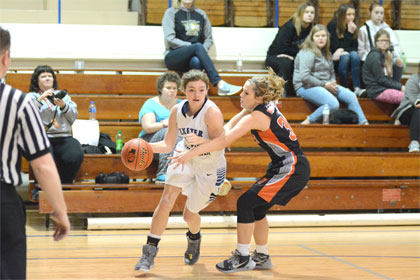 Top-seeded Exeter-Milligan began play in the 2018 Crossroads Conference Girls Basketball Tournament with a 45-38 win over McCool Junction. The Timberwolves actually trailed the opset-minded Mustangs 15-14 at halftime. E-M rallied with a 14-9 third period and never relinquished the lead.
Hannah Beethe scored 14 points and Tara Mueller had nine points and nine rebounds. Both Kate Jansky and Kelsey Bigelow added seven points. Katherine White scored five points and Anna Sluka rounded out the scoring with two points.
Next up, the 15-5 Timberwolves defeated Giltner 52-44 in its CRC semi-final contest. E-M led the Hornets 25-16 at halftime and 39-26 after three periods.
"We started playing not to lose a little bit in the fourth quarter," E-M coach Jackson Krejci said. "Kate (Jansky) had a very quiet 14 points for us. We also need (Hannah) Beethe to be in double figures."
E-M shot an improved 36 percent (22-for-61) from the field in the contest. The Timberwolves were just 2-for-9 (22 percent) and 6-for-13 (46 percent) from 3-point land and the free-throw line. E-M owned the boards, 41-26.
Jansky paced the Timberwolf offense with 14 points. Beethe scored 10 points and snagged eight rebounds. Sluka added nine points and White had seven points and 10 rebounds. Mueller and Bigelow both scored five points and Kayla Geiger added a bucket.