FC Girls Now 10-7
Details

Published on Tuesday, 30 January 2018 16:44
Written by thenebraskasigna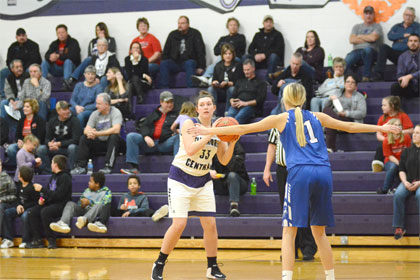 Fillmore Central rolled past SNC rival Centennial and downed Gibbon on the road in area girls basketball last week.
The 10-7 Panthers had eight girls score in their 56-38 home-court win over Centennial. FC led the contest 32-16 at intermission and never let the Broncos into the contest from there.
Macy Scott led all scorers with 15 points and Halle Theis added 13. Alexis Schmidt scored eight points for the winners and Jackie Schelkopf had seven. Erin Schmidt netted six points and Lydia Birky scored four. Rhiannon Shaner added a bucket and Rae Chapman canned a free throw.
On Friday, FC defeated 9-9, Class C-1 Gibbon 62-45.
The Panthers began 2018 Southern Nebraska Conference Basketball Tournament play at Centennial. With a win over the Broncos, FC would, more than likely, play top-seeded Superior at 6 p.m., on Thursday in Centennial's West Gym. The SNC girls final will begin at 6 p.m., on Saturday.
After SNC play, the Panthers have regular-season games left against 7-11 Sandy Creek and 1-17 Sutton.