Restoring grave markers at Geneva Cemetery
Details

Published on Friday, 14 September 2018 18:16
Written by thenebraskasigna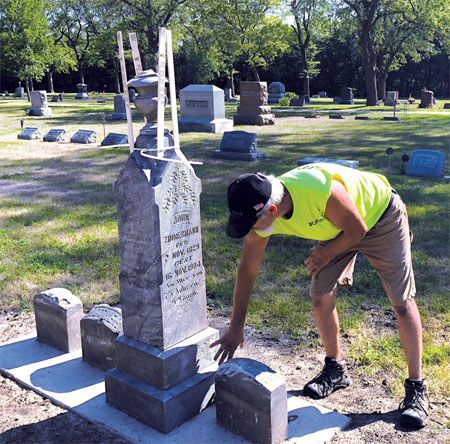 By GREG SCELLIN
Signal Editor
Funding from the estate of Marilyn D. Nichols will allow the City of Geneva to refurbish and repair several graves and headstones at the Geneva Public Library. Nichols passed away on July 13, 2017.
The city has hired J & C Cemetery Repairs, Carlos and Sandy Campa of Kearney, to make the repairs this year and for years to come. The City of Geneva inherited the upkeep of the cemetery and its over 4,800 graves when the Geneva Cemetery Association disbanded a handful of years ago.
"We are getting a lot of positive feedback from the work they are doing," said Mary Seggerman, who oversees the cemetery as one of her jobs with the city. "It will be ongoing for the next several years...we will make a certain allotment each year for the repairs. We picked the ones to do first that were ready to fall over or ones that were already broken."
Grave stone restoration is a side job for Carlos and Sandy. Carlos is a full-time superintendent with Nebraska Department of Transportation and Sandy runs a day care in Kearney. Carlos worked part time with Wegner Monument and went out on his own several years ago. The couple will work on about 30 grave markers this year in Geneva.
"This cemetery is already on the calendar for next year," Campa said. "We still have some fallen, laid ones to do. We were surprised how busy and big your cemetery is...it's just amazing the stories you have with these stones."
The Campas work most every weather-allowing weekend at a cemetery somewhere in Nebraska, including Axtell, Plesanton, Bertrand, Giltner, Loup City, to name a few. Their business is booming with Nebraska cemeteries turning 150-years old plus. They are working on a new website. Carlos is always working, trial-and-error, to find better and more-permanent ways to repair grave markers.
"The bad ones...it takes three to four hours and a series of days to repair," Carlos said. "You have to work in stages. Our process is to tear them all apart and give them a brand new base and corrected stones. You also have to remember, Mother Nature is going to elevate this ground...repairs are always going to be needed."
Seggerman said it's her goal to have every headstone, grave marker repaired in the cemetery.
"The ones we are dealing with now are mostly the late 1800s and early 1900s," she said. We eventually want to get to them all. This is important to maintain history."
Seggerman also noted that Nebraska winters are very hard on cemeteries.
Geneva City Administrator Kyle Svec mentioned the gravestone restoration work at a recent Geneva City Council meeting.
"It has generated a lot of positive feedback," Svec said. "It's moving along well."