Casey Selected For Caring Kind Award
Details

Published on Friday, 14 September 2018 18:20
Written by thenebraskasigna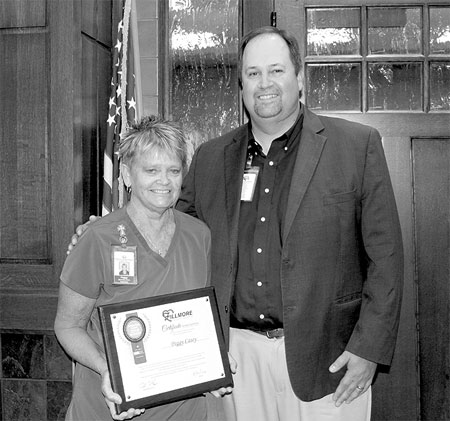 Each year, the Nebraska Hospital Association (NHA) recognizes individual hospital workers for their excellence in service through the Caring Kind Award. For 36 years, the Caring Kind Award has been given to Nebraska's most caring hospital workers. The award is a time-honored tradition that recognizes outstanding health care employees who have demonstrated compassion for patients, cooperation with co-workers and dedication to excellence in their job responsibilities. NHA recognized 78 "Caring Kind" hospital employees this year and more than 2,200 since its inception in1979.
Fillmore County Hospital has named Peggy Casey RN of Geneva as the Caring Kind Award recipient for 2018. Peggy is the Specialty Clinic Manager at FCH. She will be recognized on October 26, at the NHA's annual Caring Kind Awards Ceremony in La Vista.
Peggy is one of the most deserving employees of the Caring Kind Award. She has been a dedicated Fillmore County Hospital family member for almost 20 years and is the perfect representation of the culture and core values at the hospital. Peggy always puts the patients first and works hard to make sure they have an "always" experience. She has a servant attitude and is always working to make Fillmore County Hospital a better place. Everyone who is touched by Peggy is a better person for it. In addition to taking exceptional care of our patients, Peggy is giving of her time, talent, and resources. Peggy has been a key player in the culture shift that has happened at FCH by becoming a trainer and living the values we promote in her everyday life. Peggy regularly sends co-workers personalized, hand written notes to congratulate, encourage, thank, or uplift them. Without a doubt, Peggy is more than deserving of this year's Caring Kind award.
Past recipients of this award are Elinor Brauning (nursing) 1994, Darlene Loontjer (accounting) 1995, Jeannette Dolph (laundry) 1996, Nina Clark (nursing) 1997, Marty Peppard (maintenance) 1998, Suzanne Johnson (nursing) 1999, Sondra Myers (nursing) 2000, Jeanne Ackland (accounting) 2001, Betty Endorf (dietary) 2002, Lisa Hopken (nursing) 2003, Nancy Hanouw (transcription) 2004, Rita Lichti (nursing) 2005, Kim Gewecke (materials management) 2006, Linda Lorenzen (surgery) 2007, Dorothy Balaban (nursing) 2008, Ranee Hoarty (human resources) 2009, Deb Domann (lab) 2010, Shari Michl (nursing) 2011, Lydia Tucker (nursing) 2012, Joey Kaderabek (maintenance) 2013, Louise Wulf (housekeeping) 2014, Virginia Johnson (patient services) 2015, Star Benorden (nursing) 2016, Valerie Poppert (pharmacy) 2017.