Bobcats Remain Undefeated
Details

Published on Friday, 14 September 2018 18:26
Written by thenebraskasigna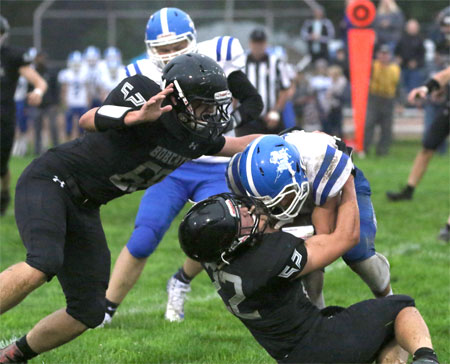 Exeter-Milligan/Friend improved to 3-0 on the young season with a 48-12 win over Lourdes Central Catholic. The Bobcats led the contest 20-6 after one periond and 28-12 at halftime.
The Bobcats scored 20 unanswered points in the second half. EMF accounted for 381 yards of total offense compared to 151 for the Knights. Lourdes had two turnovers and the Bobcats had one. Penalties were about even.
Max Zeleny got the scoring started in Milligan with a six-yard TD reception. Edwen Baptista zipped in from 48 yards out to make the score 12-0 as both PAT attempts failed. After a Lourdes CC score, Spencer Pribyl ran in from five yards out and a Baptista PAT run had the score 20-6 after one period of play.
The Knights opened the scoring in the second period. Pribyl would then connect with Baptista for three-yeard pitch and catch. A Pribyl to Zeleny PAT saw the scoreboard read 28-12 at the break.
Pribyl rambled in to score from four yards out and 27 yards out in the third and fourth quarters. Christian Weber rushed in from 16 yards in the fourth period to cap the scoring.
Pribyl went 8-for-13 passing fro 89 yards and two scores. Mitchell Manning rushed 18 times for 119 yards on September 7. Baptista rushed for 96 yards and Pribyl ran for 58 yards. Weber had 17 yards rushing. Manning caught one pass for 37 yards. Zeleny hauled in five balls for 36 yards.
o-o-o
Exeter-Milligan/Friend improved to 2-0 on the season and jumped into the Top 10 ratings with a 60-28 victory over Palmyra in Friend. The Bobcats scored early and often and led the contest 22-6 after one period and 48-14 at halftime.
EMF scored once in the third and fourth quarters, while Palmyra added 14 points in mop up time.
Spencer Pribyl hooked up with Max Zeleny to get the EMF scoring. Later Mitchell Manning dashed in from three yards out. Edwin Baptista toted the rock 31 yards for a first-quarter score. Manning scored his second TD to begin the second quarter. Pribyl hooked up with Colton Bossaller for a 26-yard pitch and catch. Pribyl then hooked up with Zeleny for a second score—this one from 52 yards out.
Manning zipped 59 yards for a third-quarter score and also hit paydirt from 13 yards in the fourth quarter.
For the game, Pribyl was 3-for-3 through the air for 91 yards and three scores. Manning rushed nine times for 117 yards and four TDs. Baptista hauled the mail 12 times for 114 yards and one score. Casey Jindra carried seven times for 14 yards. Christian Weber rushed three times for seven yards. Pribyl rushed one time for five yards. Zeleny hauled in two passes for 65 yards and two scores and Bossaller caught one for 26 yards and a TD.
Zeleny was credited with 6.5 tackles in the game and had an interception. Bossaller had six tackles and both Manning and Jindra had 4.5. Johnny Babula logged four tackles and Baptista and Trever Zelenka both had 3.5. Slater Wells had three tackles. Casey Underwood had 2.5 tackles and Pribyl had two.