BDS Opens Season With Pair Of Wins
Details

Published on Friday, 14 September 2018 18:27
Written by thenebraskasigna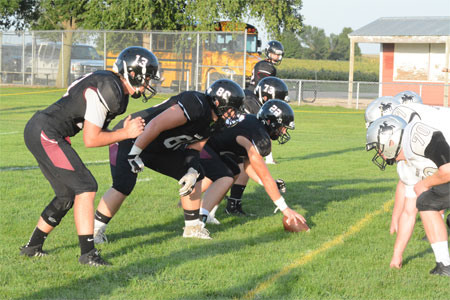 Bruning-Davenport/Shickley rolled past Palmer 58-6 on the road. Eagle quarterback John Christensen rushed for 187 yards and three scores and passed for another 55 yards and two scores. Logan Schroeder caught two TDs and Dylan Domeier rushed and caught a TD pass.
"Dylan has come a long way from last year and is gaining confidence each game," Eagle co-head coach Chris Ardissono said.
BDS had 471 total yards compared to just 154 for Palmer. The Eagles were up 44-6 at halftime. Domeier rushed for 90 yards and Dalton Kleinschmidt had 65.
Isaac Kamler paced the defense with 17 tackles and Christensen had 14. Schroeder and Nolan Weber both had nine tackles. Domeier and Isaac Else both had eight tackles.
BDS travels to Nebraska City to take on Lourdes Central Catholic this Friday night.
"Well, this week we have Lourdes," BDS co-head coach Mark Rotter said. "The last time B-D saw Lourdes was 2006 and the "Miracle at Lourdes" went against us."
Kleinschmidt rushed for a TD against Palmer. Caleb Hendrickson, Josiah Kamler and Aaron Mick all scored PATs against the Tigers.
o-o-o
Bruning-Davenport/Shickley started its 2018 campaign with a 40-0 victory over Elmwood-Murdock in Bruning. The Eagles led the contest 14-0 after one quarter and 34-0 at halftime. They added a score in the fourth stanza as well.
"We were happy with the effort," BDS co-head coach Mark Rotter said. "We have a lot of things to work on. The last time we had a punt blocked was in 2002—some of our players weren't even alive then."
The Eagles rushed for 358 yards, while allowing just 130. John Christensen rushed for 121 yards and two scores and a PAT. Kameron Dickson rushed for 86 yards and a TD. Dylan Domeier rushed for 28 yards and Aaron Mick had five yards.
Christensen threw for 96 yards on the night. He connected four times with Jacob Schoenholz for 45 yards and two scores.
"Jacob was thrown to four times and he caught all four—two for touchdowns," Eagle co-head coach Chris Ardissono said.
Dickson had 41 yards receiving and Logan Schroeder had 14 yards receiving and a score.
Ardissono praised Schroeder for his kickoffs.
"He kicked off six times and every one was on the ground," the coach said. "That was exactly what we wanted him to do—those are difficult to return."
Isaac Kamler was in on 24 tackles and Christensen had a hand in 20. Domeier was in on 17 stops and Isaac Else was in on 13.