Panthers 2nd At FC Invite; 7-4 on Season
Details

Published on Wednesday, 19 September 2018 19:53
Written by thenebraskasigna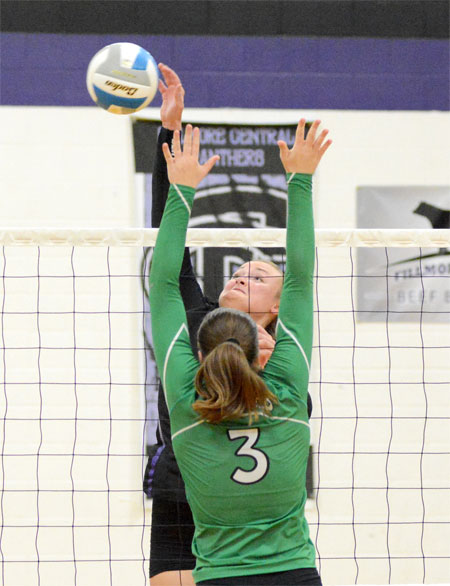 Fillmore Central improved to 7-4 on its volleyball season with four victories last week. The Panthers went 2-1 and finished second in its own volleyball invitational this Saturday.
FC (7-4) swept 5-7, Class C-1 Raymond Central in its first match on Saturday. The Panthers prevailed 25-21, 25-17 on September 15.
Both Halle and Lexi Theis pounded seven kills against the Mustangs. Erin Schmidt nailed six terminations. Macy Scott put up 16 assists in the win. Schmidt smacked three ace serves and L. Theis had two. L. Theis also posted four ace sets.
Next up, FC defeated Class C-1, 8-5 Milford 25-14, 25-17. The Eagles would go on to defeat Sutton to place third in Geneva.
H. Theis crunched a dozen kills against Milford. L. Theis added five and Schmidt had four. Theis and Scott both were credited with eight assists. L. Theis and Scott both nailed a pair of ace serves. H. Theis had four digs and two solo blocks. Schmidt posted three solo blocks for the winners.
"Halle (Theis) had a great game defensively for us," Panther coach Dawn Temme said. "After a tough loss to Milford earlier in the season, the girls came out and stuck to our game plan and played great."
FC took the first set from Hastings St. Cecilia in the invite final on Saturday afternoon, but eventually fell to the 6-4, Class C-2 Hawkettes 24-26, 25-22, 25-11.
H. Theis belted 13 kills in the tournament championship. Scott and Jordan Broman both nailed four. L. Theis had three kills and Schmidt had a pair. Scott put up a dozen assists. H. Theis and Schmidt both served up an ace. L. Theis had six digs and two solo blocks. H. Theis was in on four blocks and L. Theis posted two solo blocks.
"The girls played a great game against a good team," Temme said. "We saw a few things we need to work on. Overall, I though we had a great tournament."
On Tuesday of last week, FC swept D-1 state-rated Heartland, 25-19, 25-13, 25-22 in Henderson.
H. Theis smashed 14 kills and served up four aces. L. Theis had three kills, four ace serves and 11 assists. Schmidt smacked two kills. Scott slapped down two kills and had 11 assists. Claire Kimbrough slapped down three ace serves.
Schmidt was in on five blocks and the Theis girls each had two solo blocks. L. Theis posted 14 digs.
"Halle had a great game with 14 kills," Temme said. "Claire has been great coming off the bench to serve for us."
On Thursday, the Panthers cruised past Wilber-Clatonia 25-10, 25-10, 25-5.
H. Theis smacked eight kills against the overmatched Wolverines. L. Theis smacked seven kills and nailed eight ace serves, along with having five assists. Schmidt thumped six kills and Scott had 11 ace sets for the winners.
L. Theis had 10 digs and H. Theis had nine digs and four solo blocks. Schmidt was in on five blocks. Lexis Jenkins smacked an ace serve and had a solo block. Scott posted four digs.
"We played a real good, complete game tonight," Temme said. "We got some girls in to get some varsity playing time tonight—we had a great team effort."
FC competes next in a triangular with Lawrence/Nelson and Thayer Central on Tuesday in Lawrence. The Panthers travel to Hastings Adams Central for a tournament on Saturday.