E-M Finshes 2-1 At MUDECAS
Details

Published on Wednesday, 19 September 2018 19:54
Written by thenebraskasigna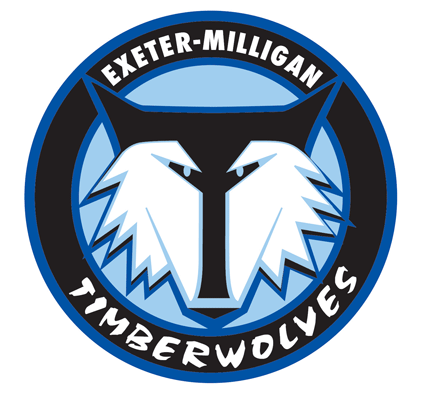 Exeter-Milligan won the consolation final at the 2018 MUDECAS "A" Division Volleyball Tournament. The Timberwolves finished 2-1 in Beatrice and are now 7-4 and No. 4 in wildcard points in Class D-2.
The Timberwolves began play last Monday with a disappointing loss to Class D-1, 5-4 Diller-Odell. The Griffins took the match 25-19, 25-19.
Katherine White, who made the MUDECAS All-tournament First Team, hammered eight kills against D-O. Kate Jansky nailed four kills. Anna Sluka posted seven assists and Emma Olsen had five. White crunched a pair of ace serves. Jaiden Papik paced the defense with eight digs. White had five digs and Jansky, who was named to the All-tournament Second Team, had four digs.
E-M came back on Tuesday to down Class C-2, 6-3 Palmyra 22-25, 25-22, 25-23.
White slammed 17 terminations in the victory and Jansky had 15. Cammie Harrison and Daisy Kanode both tallied a pair of kills. Olsen had 24 assists and Sluka had 13. Jansky and White both nailed a pair of ace serves. Sluka slammed three ace serves. Briana Capek nailed an ace serve.
Sluka came up with 14 digs and Papik had 13. Jansky had 10 digs and four blocks. White had eight digs and a block. Olsen tallied six digs and Harrison had five.
The Timberwolves swept Falls City Sacred Heart 25-18, 28-26 on Thursday in Beatrice. The Irish are 8-5 and No. 8 in wildcard points in Class D-2.
Jansky ripped down 13 kills and White had nine. Kanode also tallied a kill. Olsen recorded 17 ace sets and Sluka had three. Jansky and Papik both drilled ace serves. Capek and White both belted one.
White paced the defense with eight digs and two blocks. Olsen and Jansky both recorded seven digs. Sluka and Papik both had six digs. Harrison, Kanode and Cameran Jansky all had two digs in the victory.