Bluegrass Music Will Sound Sunday Afternoon in Geneva
Details

Published on Wednesday, 26 September 2018 16:23
Written by thenebraskasigna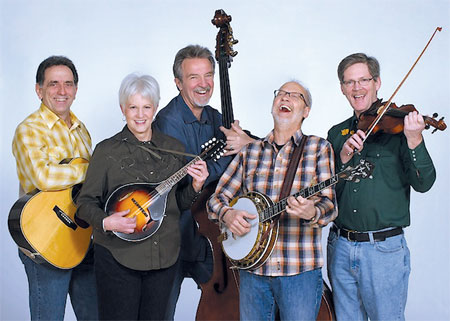 The Geneva Arts Council's 2018-2019 season gets underway this Sunday, September 30, at 3 p.m., with a performance at the historic Geneva City Auditorium by The Toasted Ponies. The Ponies' performance combines the best of both traditional and contemporary Bluegrass music.
In the mid 1980s, to pass time on the drive to a Bluegrass Festival in Telluride, Colo., multi-talented musicians Steve Hanson, Jim Pipher and Erin McGovern sang song after song, mile after mile. In Colorado, horses grazed in the pasture by their campground. And while jamming and harmonizing around the campfire into the wee hours of the night, the trio got "toasted." On a whim, the newly formed trio entered a contest at the Telluride festival and took second place—thus the beginning of The Toasted Ponies. Erin has since moved on and Terry Keefe, Randy Barger and Pam Barger have joined the Ponies.
These five dynamic musicians are seasoned professionals who love to play their music and it shows. They will play everyone's Bluegrass favorites along with a fun mix of Cajun, Western, Swing, Gospel and Celtic tunes, just to keep things interesting. It's impossible to see The Toasted Ponies show without tapping your toes.
Other performances for the 2018-2019 season include the Mighty Magic Pants and the Omaha Big Band. Season tickets for these three events are available at the door the day of the performance or by mail—Geneva Arts Council, P. O. Box 54, Geneva, NE 68361. There is a significant savings by ordering a season pass.
The Geneva Arts Council is supported in part by the Nebraska Arts Council, the Nebraska Cultural Endowment, the National Endowment for the Arts, the City of Geneva, the Fillmore County Foundation, the Mary Tous Charitable Foundation and private contributors, including IPSCO Steel, Inc.- Geneva Works, Heartland Bank and many generous individuals.