BDS Blows Out Southern
Details

Published on Wednesday, 26 September 2018 16:49
Written by thenebraskasigna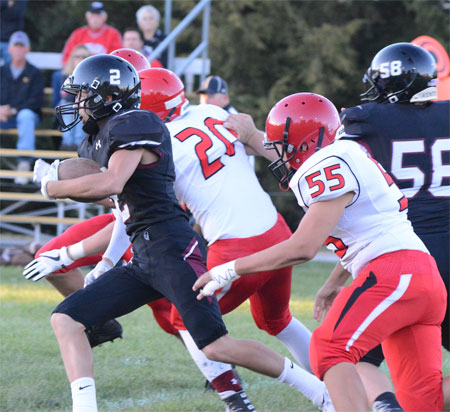 Bruning-Davenport/Shickley held the high-flying Southern offense to just 12 points Friday night in a 56-12 victory in Shickley. The 4-0 Eagles led the Shickley Homecoming contest 34-12 at intermission, and held the 1-3 Raiders scoreless in the second half.
"Our offensive line up front set the tone for the night," BDS assistant coach Scott Shipley said. "They came out physical and made some big holes for our running backs. It was a great night in the trenches."
The Eagle offense produced 397 yards and 14 first downs, including 324 yards rushing. Southern was limited to just 96 yards of total offense—minus 17 yards rushing and 113 yards passing, which came mainly on two long pass completions. The Eagle defense also forced four turnovers.
Kameron Dickson paced the BDS ground game with 127 yards on just seven carries and two scores.
"Get Kameron in the open field, and he's a tough one to catch," BDS assistant coach Ryne Philippi said.
Pressed into extra action due to several key Eagle injuries, Dominic Quinones scored two touchdowns in the blow-out. Quinones was one of several sophomores who carried the load for BDS in the skill positions.
"Dominic found the end zone two different ways—the first on a 27-yard pass and then one on a one-yard rush," Eagle co-head coach Chris Ardissono said.
Dalton Kleinschmidt and Aaron Mick alternated at quarterback for BDS. Kleinschmidt rushed for 93 yards and a TD and a PAT. Mick threw for 73 yards and two scores—one to Quinones and one to Justin Stengel. Heath Calvert rushed for 27 yards and a score. Mick rushed for 45 yards and converted two PATs. Raleigh Shipley made a tackle for a safety. Isaac Kamler logged 11 tackles and Nolan Weber had 10.