Panthers Roll Past Cougars
Details

Published on Wednesday, 10 October 2018 21:01
Written by thenebraskasigna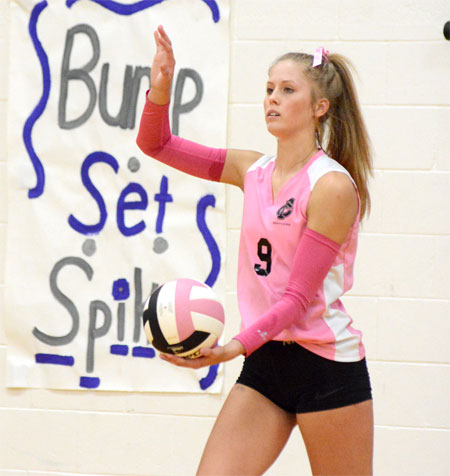 Fillmore Central improved to 13-6 on the season with a 25-15, 25-19, 25-13 win at Sandy Creek on Thursday, October 4. Halle Theis smacked a dozen kills in the victory and Erin Schmidt enjoyed an excellent all-around match with nine kills, five ace serves, three digs and three blocks.
"Erin (Schmidt) had a good game tonight for us," Panther coach Dawn Temme said. "After not playing on Tuesday, we looked a little sluggish, but we pushed through for a good win."
Lexi Theis thumped four kills against the Cougars and had 12 assists. Macy Scott put up nine ace sets and had two kills. H. Theis also had five digs and four blocks.
The Panthers hosted 12-8, Class C-2 Centennial on Tuesday. On Thursday, FC travels to Grand Island to compete in a triangular with 13-13, Class C-1 Gothenburg and 18-4, Class C-1 Grand Island Central Catholic. The SNC Tourney is Oct. 15-18.