EMF Rolls Past Tigers
Details

Published on Wednesday, 10 October 2018 21:02
Written by thenebraskasigna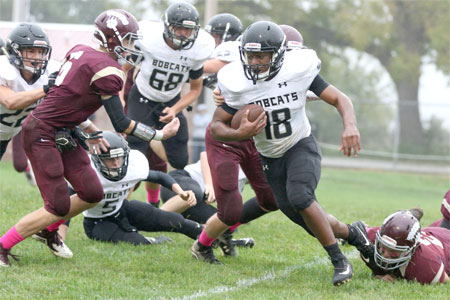 Exeter-Milligan/Friend remains undefeated and No. 1 in wildcard points in Class D-1 after a 62-18 victory on the road in Dwight over East Butler. The Bobcats exploded for 48 first-half points in the win. EMF hosts 1-5 Nebraska Lutheran this Friday in Milligan before travelling to play 4-2 Cross County to end the regular season.
The 6-0 Bobcats needed to score early and often in the damp conditions Friday afternoon, as the Tigers were amped up and use a wide-open offense, which is tough to contain. The same could not be said for the EB defense as the Bobcats broke long run after run en route to 388 yards rushing.
EMF's Mitchell Manning set the tone with a 70-yard kick-off return to start the game. After a turnover, Bobcat Edwen Baptista rushed in from three yards out to make the score quickly 12-0. Baptista would again have a huge game on the ground, rushing 28 times for 180 yards and two scores. After an EB score, Baptista crashed in from eight yards out and converted the PAT for a 26-6 lead. The pesky Tigers would come back to score to have the scoreboard read 26-12 after one.
Tiger quarterback Jaden Rhynalds scampered 44 yards for a score to begin the second period. From there, it was all EMF before halftime.
Manning zipped 14 yards for a score and the Baptista PAT run was good. Manning rushed 17 times for 110 yards and two scores in the win. Next, Bobcat quarterback Spencer Pribyl hooked up with Baptista for a 31-yard pitch and catch. Pribyl passed for 47 yards and rushed seven times for 56 yards and a TD. Manning would cap the first-half scoring with a 31 yard TD jaunt. The score was 48-18 at intermission in Dwight.
The Bobcats would score twice in the second half. Manning would score his fourth touchdown of the game as he returned a Tiger punt to the house. Peyton Pribyl finished the game's scoring with a three-yard TD run. Teammate J.B. Drake made the PAT.
EMF had 435 yards of total offense and 27 first downs. The Bobcat defense forced six turnovers and only allowed eight first downs and 238 total yards.
Max Zeleny rushed for 19 yards and caught one pass for seven yards. Pribyl rushed for 16 yards.
Zeleny paced the defense with six solo tackles, a tackle for a loss and an interception. Manning had two interceptions, a tackle for a loss and five solo stops. Slater Wells was in on six stops and Colton Bossaller was in on five. Johnny Babula had five tackles and Nick Hayek had two tackles. Manning had 149 return yards.