Eagles Downs E-B, Osceola
Details

Published on Wednesday, 10 October 2018 21:03
Written by thenebraskasigna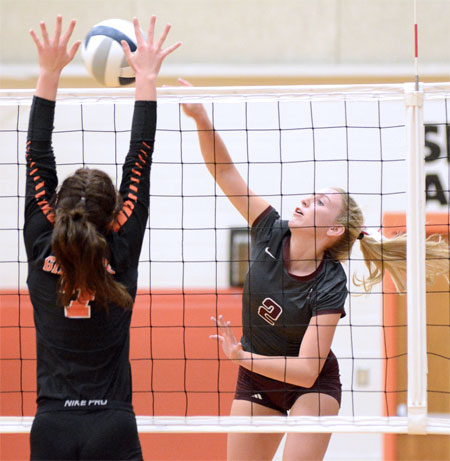 Bruning-Davenport/Shickley improved to 15-4 on the season, and No. 2 in Class D-2 wildcard points, with wins over East Butler and Osceola last week.
The Eagles rolled past the Eagles 25-14, 25-13.
Jadyn Kleinschmid tripped seven kills against EB. Regan Alfs had four kills, six assists and four digs in the win. Jordan Bolte blasted four ace serves for the winners and also put up nine assists. Sera Johnson thumped three ace serves for the Eagles and tallied four digs.
Caitlin Mosier smacked two ace serves against EB. Mariah Sliva had three kills. Emilie Schardt tallied three kills. Kleinschmidt had nine digs on defense.
BDS thumped Osceola, 25-11, 25-13.
Alfs had eight kills in the match and three assists. Kleinschmidt had six kills and three ace serves. Mosier and Bolte both belted two ace serves. Bolte had seven assists. Sliva nailed four kills and had three blocks. Mosier had seven digs.
"Tonight was a great night for multiple girls to see action on the floor," BDS coach Kari Jo Alfs said. "All 14 girls that suited up, played. I was proud of the girls not dropping their intensity level and for really taking it to them. Some times, these nights can be challenging."
BDS plays at two triangulars this week—Tuesday against 10-10 McCool Junction and 10-10 Dorchester; and on Thursday against 8-10 Lawrence/Nelson and 8-15 High Plains. The CRC Volleyball Tournament starts next week.