Panthers 15-7; Begin SNC Play
Details

Published on Thursday, 18 October 2018 14:26
Written by thenebraskasigna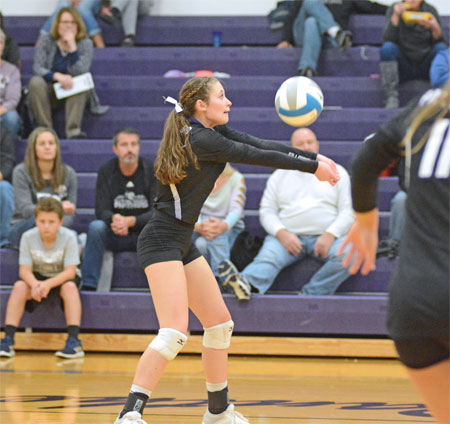 Fillmore Central began play in the 2018 Southern Nebraska Conference Volleyball Tournament at 15-7 and No. 13 in wildcard points in Class C-2. The Panthers are the tournament's fourth-seed and should advance to play top-seed Superior (22-2) in one semi-final match. The SNC Consolation Final is Thursday at 5:30 p.m., in Milford, while the SNC Final begins at 7.
The Panthers downed their SNC first-round opponent Centennial (14-12) 25-20, 25-22, 25-21 on Tuesday, October 9. Halle Theis pounded 15 kills in the home-court win. Lexi Theis crunched down nine kills, belted six ace serves and had 15 assists. Erin Schmidt knocked down six kills and Jordy Broman added four kills. Macy Scott tallied 16 ace sets. Broman also belted three ace serves.
H. Theis tallied 13 digs. L. Theis had 11 digs and four blocks. Schmidt recorded three solo blocks and five assists. Broman came up with 11 digs. Scott had eight digs.
On Thursday, October 11, the Panthers split its games in a triangular in Grand Island.
FC downed Gothenburg, 22-25, 25-10, 25-18.
H. Theis smashed 17 kills. L. Theis had six terminations and a dozen assists. Schmidt smacked five kills. Scott and Broman both had a pair of kills. Scott tallied 11 assists and Broman had two. L. Theis thumped three ace serves. Schmidt nailed two ace serves and Broman had one.
L. Theis, Scott and Broman all had seven digs. H. Theis had four blocks and Schmidt had nine.
State-rated Grand Island Central Catholic prevailed in the nightcap 25-11, 25-19.
H. Theis smacked four kills and had an ace serve. L. Theis had an ace and five assists. Schmidt came up with two kills. H. Theis had seven digs and two blocks. L. Theis had four digs. Schmidt had four blocks.
"Bella Lichti did a great job coming off the bench and taking over for a sick player," Panther coach Dawn Temme said. "We need to cut back our errors and clean up our side of the net before a tough conference tourney next week."