EMF Rolls To Win Number 7
Details

Published on Thursday, 18 October 2018 14:29
Written by thenebraskasigna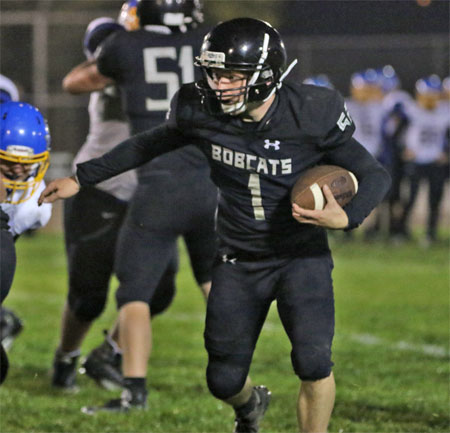 Exeter-Milligan/Friend put up a pair of 22s in the first two quarters against Nebraska Lutheran en route to a 56-18 Homecoming victory in Milligan. The 7-0 Bobcats are sixth in wildcard points in Class D-1 and play Cross County this Friday night to close out the regular season. EMF led the game on October 12, 44-6 at halftime.
Mitchell Manning struck paydirt twice in the first quarter for the Bobcats. Manning scampered in from 26 and nine yards out. Bobcat QB Spencer Pribyl hooked up with Jackson Beethe for a 56-yard bomb in the first quarter. Pribyl rushed for one PAT and hooked up with Trever Zelenka for another successful PAT.
Manning scored again in the third quarter from 16 yards out. The two-point conversion from Pribyl to Max Zeleny was good. Zeleny would crash into the end zone again, as the Bobcat junior intercepted a NL pass and returned it to the house. A Pribyl to Edwen Baptista pitch-and-catch would cap the first half scoring. Baptista rushed 13 times for 101 in the victory. He also had two catches for 13 yards.
Pribyl hooked up with Beethe again for a score—this time for 21 yards. J.B. Drake punched in the final score from eight yards out for EMF. Both teams scored 12 points in the second half.
Christian Weber rushed seven times for 56 yards for EMF. Dylan Bonds carried the ball one time for 33 yards for the Bobcats. Colton Bossaller rushed five times for 16 yards. Max Zeleny had 26 yards receiving and 15 yards rushing.
EMF had 432 yards of total offense and 22 first downs. NL had five turnovers and the Bobcats had three. The Bobcats were whistled for 35 yards in penalties.
Zeleny was in one nine tackles including 2.5 for a loss and two interceptions. Slater Wells was in on seven tackles with four for a loss and one sack. Bossaller was in on seven tackles. Zelenka was in on five tackles. Baptista had three tackles and one for a loss. Manning was also in on three tackles and one for a loss. Johnny Babula had two stops and one for a loss. Jacob Bottom was in one two tackles and Casey Jindra was in on one. Pribyl and Weber also had a tackle.
EMF travels to rural Stromsburg to tangle with Cross County this Friday.